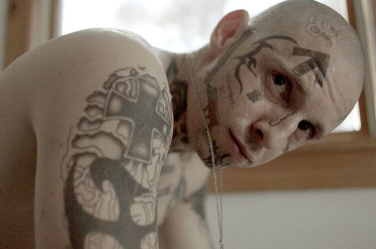 With a little over one week to go before AFM kicks off in Santa Monica, Voltage Pictures has picked up international sales rights to Skin, Maven Pictures' acclaimed drama starring Jamie Bell as a repentant skinhead that premiered at the Toronto International Film Festival (TIFF) last month.
Skin marks the first US-set feature from Israeli director Guy Nattiv and won the TIFF FIPRESCI Prize for Special Presentations in Toronto, where it landed a North America distribution deal with A24/DIRECTV, who plan a 2019 launch.
Starring alongside Bell are Vera Farmiga and Patti Cake$ breakout Danielle MacDonald in the story inspired by actual events about Bryon Widner, a white supremacist who turned his back on the movement and underwent excruciating tattoo removal surgeries. The cast includes, Mike Colter and Bill Camp.
Maven Pictures' Celine Rattray and Trudie Styler produced alongside Jaime Ray Newman, Oren Moverman, Dillon D. Jordan and Nattiv, who also wrote the screenplay.
"It's truly a pleasure to be working with Guy, Trudie and Celine and the team on this incredibly powerful film," said Voltage COO Jonathan Deckter, who announced the deal on Monday (22). "We could not be more proud to have this film on our slate."
"We are thrilled to be working with Jonathan and his team at Voltage," the producers said in a joint statement. "They believe in the power of Bryon's story and its themes of tolerance, empathy, and love. These are vital and urgent messages for our world today."
"I am honoured to partner with Voltage Pictures on my first US film Skin," said Nattiv. "In these crazy times of uncertainty, I am proud that they will show the world this story of redemption and possibility beyond a life of hate."
The production companies are Maven Pictures, Sight Unseen Pictures, New Native Pictures, TUGAWOOD Pictures, PaperChase Films, Lost Lane Entertainment, Brookstreet Pictures, Come What May Productions, Allusionist Picture House, and Hua Wen Movie Group.
Deckter brokered the deal for Voltage with Peter Trinh of ICM Partners on behalf of the filmmakers.