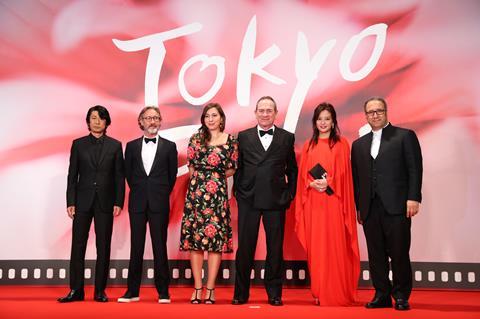 A group of four Japanese "Muses" and a rare China-Japan co-production were among the highlights at the opening of this year's Tokyo International Film Festival (TIFF, October 25-November 3).
Braving the wind and rain, as the second typhoon in a week bears down on Tokyo, the festival's four elected muses – Sakura Ando, Yu Aoi, Hikari Mitsushima and Aoi Miyazaki – walked the red carpet, along with jury members Tommy Lee Jones and Chinese actress Zhao Wei.
While the four actresses have starred in mainstream fare, they are best known internationally for smaller films such as 0.5mm, Japanese Girls Never Die and Love Exposure, so their participation in TIFF is designed to bring much-needed attention to Japanese independent cinema.
At the opening ceremony, held at Ex Theater Roppongi, government ministers congratulated the festival on its 30th anniversary and referenced the 45th anniversary of the normalisation of diplomatic ties between China and Japan. The ceremony also featured a 10-minute promo of Chen Kaige's Legend Of The Demon Cat, a co-production between China's New Classics Media and Japan's Kadokawa.
While relations between China and Japan have historically been strained, they appear to be improving just as Beijing's relationship with South Korea is deteriorating, although how long the detente will last is anyone's guess.
Chen's new film, a sumptuous co-production based on a Japanese novel set in Tang Dynasty China, may encourage further collaboration between the Chinese and Japanese film industries. Starring Shota Sometani, Xuan Huang, Hiroshi Abe and Keiko Matsuzaka – who all walked the red carpet tonight – the film is scheduled for release in China this December and in Japan in February 2018.
Closing the ceremony, Tommy Lee Jones said he'd been told that TIFF would "open up the Pacific Rim", which he quipped sounded like a geological formation, but added: "I know we're not standing here on the rim of anything…we're good at making and selling films in the US but I'm honoured to be part of a jury that intends to celebrate emotional and intellectual understanding between people and stand at the heart of, and not the rim of, filmmaking."
Other guests at the opening included Japanese director Fumihiko Sori, whose Fullmetal Alchemist opened the festival; Naomi Kawase, who will host a master class; festival ambassador Kanna Hashimoto (Gintama); and Cannes film festival director Thierry Fremaux, attending in support of his feature documentary Lumiere!