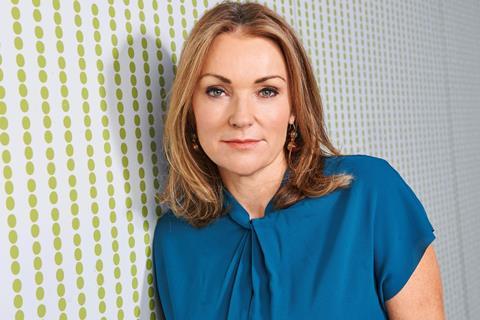 Apple is open to striking co-production deals for original content, accordint to Jay Hunt.
Speaking in the House of Lords yesterday, Apple's creative director, Europe worldwide video said she has spent the past 18 months talking to indies and broadcasters about an array of different rights models, including co-pros.
"We are not averse to co-productions at all," she told the inquiry into safeguarding the PSBs (public service broadcasters).
"The priority is to find innovative content and I've been struck by the openness of producers to discuss an array of models."
Hunt stressed that co-producing content is not the only way in which Apple can contribute to the UK's creative economy.
She cited two recent Apple commissions for BBC Studios – a natural history doc series on dinosaurs and a relationship comedy starring Rafe Spall.
"Tony Hall has talked about the value of BBCS and this is a literal injection of cash into the BBC, continuing to fuel that public service economy," she added.
Hunt's first raft of Apple orders are all believed to be fully-funded and the tech giant's head of global video programming Jamie Erlicht recently indicated he is unlikely to strike co-pro deals or acquire content.
PSB ethos
Hunt used her rare public speaking appearance to present the case for Apple's positive contribution to the PSB landscape.
She said the Apple TV app has four prominent rows dedicated to PSB content, one per broadcaster. These are scheduled as a result of "weekly creative collaborations" between her team and the PSBs.
In this way, Hunt said, the PSBs can hold on to viewers that have deserted the linear schedule but are still keen to view their content.
"Our contribution can be to attract those people that want to watch the PSB content but won't sit down at 7pm on a Sunday night," she added.
"There is an opportunity to aggregate and this is one way in which Apple is innovating towards a very good cause."
Amazon: flexible model
Former Channel 4 chief creative officer Hunt was speaking alongside Amazon Studios director of European originals Georgia Brown, who reiterated points made earlier this year that the SVoD is prepared to be "incredibly flexible" on rights.
"I'm more than happy for indies to keep rights and monetise them," she said.
"We're not working to a worldwide model and completely understand that producers need a line of income."
Brown announced that Amazon has boarded 12 Years A Slave director Steve McQueen's forthcoming BBC anthology series Small Axe and will launch the series in the US.
Distributed internationally by BBCS, the six-part series is being produced by UK indie Turbine Studios and is set in a West Indian diaspora community in London.
This story first appeared on Screen's sister site Broadcast.