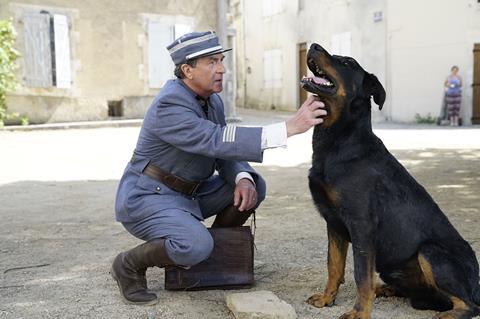 Jean Becker's WW1 drama The Red Collar will open Unifrance's 20th Rendez-vous with French Cinema in Paris, running Jan 18-22, 2018, its international sales agent FranceTV Distribution (FTD) has announced.
The WWI drama, adapted from the 2014 novel by Jean-Christophe Rufin, resolves around the interrogation of a decorated war hero who has fallen from grace after staging a strange, anti-war protest using his medal.
Nicolas Duvauchelle plays the disgraced soldier opposite François Cluzet as a corrupt judge who is charged with the task of interrogating the young man. French-Belgian actress Sophie Verbeek plays the fallen hero's lover. Above and below, Screen can reveal the two first look images from the film.
The production is one of the first titles to be completed on the slate of FranceTV Distribution's new feature film division following its launch at the 2017 Paris Rendez-vous.
Other upcoming titles on its slate include Xabi Molia's Comme Des Rois, starring Kad Merad as a con artist opposite Kacey Mottet Klein as his son, who has dreams of breaking away from his father and his scams.
The Red Collar is due to hit screen's worldwide next year as the nations involved in WWI – including France, the UK, Belgium, Germany, Australia, New Zealand and the US – mark 100 years since the end of the conflict in which 18 million people died.
The company has already secured pre-sales on the title to Hugo East for China and Spain's Contracorriente.
Paris-based Apollo Films, the new distribution and production company launched by former StudioCanal and Gaumont executive François Clerc earlier this year, is due to release the film in France on March 21, 2018.
The Red Collar is the 15th feature of octogenarian director Jean Becker, who began his cinema career on the sets of his late father Jacques Becker in the late 50s, before getting his solo directorial break with the 1961 thriller A Man Named Rocca, starring Jean-Paul Belmondo.
Unifrance's Rendez-vous with French Cinema is the biggest market for French cinema outside of Cannes. Some 40 French film companies are expected to participate this year, showing some 80 new French films in the screenings programme as well as unveiling future pictures due to come fruition over the course of 2018.