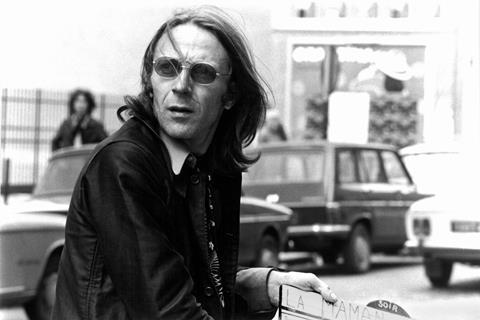 Late French filmmaker Jean Eustache's recently restored cult 1973 drama The Mother And The Whore will open Cannes Classics this year, the line-up for which was announced on Monday (May 2).
Other highlights include two episodes of the series The Last Movie Stars directed by Ethan Hawke about Joanne Woodward and Paul Newman; a screening of Singin' In The Rain to coincide with the 70th anniversary of its release and a restored 4K version of Vittorio de Sica's 1946 work Sciuscià.
There will also be a special focus on the Olympic games with a screening of Japanese director Naomi Kawase's official film for the 2020 Tokyo summer edition (which finally took place in 2021 due to the Covid pandemic) and Visions Of Eight, a portrait of the 1972 summer games in Munich by eight directors including Milos Foreman, Claude Lelouch and Arthur Penn, which was originally shown at the 1973 edition of Cannes.
To coincide with the Cannes Marché du Film's celebration of India as its country of honour this year, Cannes Classics will also show a fresh restoration of Satyajit Ray's 1970 work The Adversary (Pratidwandi).
Although not the official opening film, The Mother And The Whore will technically be the first screening of the festival with a 2pm CET slot in the Debussy theatre on May 17.
Its Cannes Classics screening falls just one year shy of the 50th anniversary of the feature's original world premiere in Competition in Cannes in 1973, where it won the jury grand prize.
The love triangle drama stars Jean-Pierre Léaud, Bernadette Lafont and Françoise Lebrun. Like many of Eustache's works, it mixed fact and fiction with the screenplay inspired by the director's own torrid love life oscillating between Lebrun, Marinka Matuszewski and ex-girlfriend Catherine Garnier.
The feature gained tragic notoriety after Garnier, who had participated in the production, committed suicide a few days after the film's Cannes triumph. Eustache would also take his own life in Paris in 1981 at the age of 42.
Lebrun, Léaud and the director's son Boris Eustache are due to attend the Cannes Classics screening.
The film's selection as the opening film of Cannes classics follows its recent restoration spearheaded by historic French film company Les Films du Losange, which acquired rights to the body of Eustache's work earlier this year. The company is planning a 100-screen wide general re-release of the restored version in June.
Eustache belonged to a generation of filmmakers who followed immediately in the wake of the New Wave and is viewed as a direct successor of Jean-Luc Godard, François Truffaut, Jacques Rivette and Rohmer.
Contemporary filmmakers who have expressed admiration for his work include Olivier Assayas and Jim Jarmusch, who featured a dedication to The Mother And The Whore in his 2005 work Broken Flowers.

Full Cannes Classics 2022 line-up
The Mother And The Whore (Fr) opening film
1972
Dir. Jean Eustache
The Adversary (India)
1970
Dir. Satyajit Ray
Singin' In The Rain (US)
1952
Dir. Gene Kelly, Stanley Donen
Restoration World Premieres

Sciuscià (It)
1946
Dir. Vittorio de Sica
The Circus Tent
1978
Dir. Aravindan Govindan
The Trial (Fr-Ger-It)
1962
Dir. Orson Welles
If I Were a Spy… (Fr)
1967
Dir. Bertrand Blier
Poil de Carotte (Fr)
1932
Dir. Julien Duvivier
The Last Waltz (US)
1978
Dir. Martin Scorsese
Item (Phil)
1976
Dir. Mike De Leon
Deus e o Diabo na Terra do Sol (Bra)
1964
Dir. Glauber Rocha
Daisies (Czech Rep)
1966
Dir. Vera Chytilová
Viva la muerte (Fr-Tun)
1971
Dir. Fernando Arrabal
Documentaries
Joanne Woodward And Paul Newman by Ethan Hawke (US)
The Last Movie Stars, episodes 3 and 4
Dir. Ethan Hawke

Romy, A Free Woman (Fr)
Dir. Lucie Cariès
Jane Campion, Cinema Woman (Fr)
Dir. Julie Bertuccelli
Gérard Philipe, Le Dernier Hiver Du Cid (Fr)
Dir. Patrick Jeudy
Patrick Dewaere, My Hero (Fr)
Dir. Alexandre Moix
Hommage d'Une Fille à Son Père (Mali)
Dir. Fatou Cissé
Goya, Carrière And The Ghost Of Buñuel (Fr-Sp-Port)
Dir. José Luis Lopez-Linares
Three In The Drift Of The Creative Act (Arg)
Dir. Fernando Solanas
Official Film Of The Olympic Games Tokyo 2020 Side A (Jap)
Dir. Naomi Kawase
Visions Of Eight (Ger-US)
1973
Dirs. Miloš Forman, Youri Ozerov, Claude Lelouch, Mai Zetterling, Michael Pfleghar, Kon Ichikawa, Arthur Penn, John Schlesinger