Two pop culture superstars took part in separate panels in the legendary Hall H for The Hunger Games: Mockingjay – Part 2 and Rock The Kasbah as the San Diego jamboree got underway on Thursday.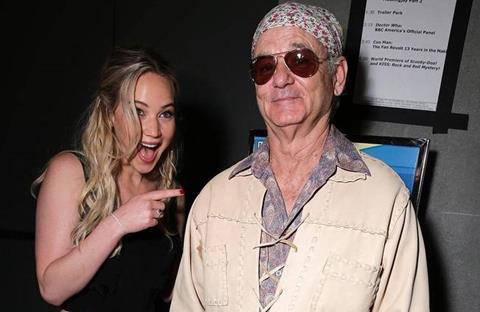 While neither session contained any news of note the typically excitable crowd showed their appreciation for the turn-out.
Lawrence joined her co-stars Josh Hutcherson, Liam Hemsworth and Willow Shields from Lionsgate's The Hunger Games: Mockingjay – Part 2 as well as director Francis Lawrence and franchise producer Nina Jacobson.
While the tone of the session hosted by TV personality Conan O'Brien was jocular and warm, there were moments of poignancy as the panellists reflected on the approach of November 20 — when the franchise finale will open in the US and around the world.
"We all wish there were seven or eight books and not just three," said Jacobson, whose Color Force has championed the series from the beginning. "It's emotional for us and emotional for the audiences and we want to deliver for the fans."
After the director introduced the world premiere preview of the trailer, the stars were asked what they would take away from the four-year experience of shooting and promoting four films.
"These movies really did change my life," said Lawrence. Turning to her fellow panelists she continued: "You guys challenged me. I love you. The changes that happened are so permanent that I don't think I will ever say goodbye [to her character Katniss Everdeen.]
"What I like about this is they take an entire world and condense it into a continent, Panem. All these issues are real."
Earlier Lawrence told the crowd: "I would hope a little bit of Katniss rubbed off on me."
Drawing one of many laughs she paused before adding: "Nothing about us is similar because she's brave and I'm an actress."
Murray surprise
Earlier in the day, during the Open Road presentation, Murray surprised and delighted the crowed when he walked on stage for this first ever Comic-Con appearance in support of Rock The Kasbah.
The star arrived in character as the film's louche rock manager Richie Lanz and jammed with the crowd, inviting them to join in on a suitably anarchic sing-along.
The film opens in the US on October 23.
Despite the customary reminders by comic-Con hierarchy urging audience members not to record or stream panel events and trailers, the rise of live Periscope presents challenges.
According to reports, part of the Kasbah panel was streamed via the app.