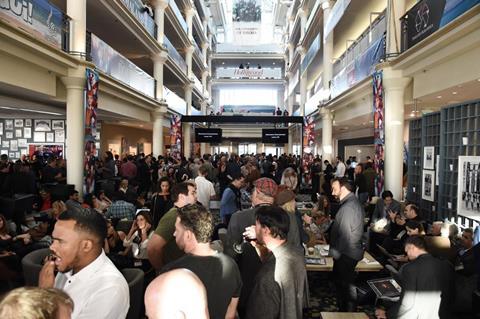 Jonathan Rhys Meyers is in advanced talks to join the hot air balloon thriller Altitude, which 13 Films is introducing to buyers at AFM.
Writer-director Marc Fienberg and the producers have earmarked a January 2019 start in South Africa on the story about a man whose plan to propose to his fiancée in a hot air balloon goes horribly wrong.
When the airborne vessel climbs out of control, it leaves the couple and the woman's estranged ex-boyfriend on board and fighting for their lives.
"I could not be more thrilled to be in talks with Jonathan Rhys Meyers," said Fienberg. "I'm so excited to watch him play the very complex role of a man who begins the story as a confident hero, but slowly becomes more human, succumbing to fear, when the chips are truly down."
J. Todd Harris is producing Altitude for Branded Pictures Entertainment along with Greg Schenz for 13 Films, in conjunction with South African based Charl Van der Merwe of Silverline 360, and Irfaan Fredericks for Kalahari Film & Media. Tannaz Anisi of 13 Films serves as executive producer.
"This script is a page-turner from the start, and had me on the edge of my seat until the very end," said Harris. "I'm guessing it will do for hot air ballooning what Jaws did for going to the beach or Titanic did for pleasure cruising. A talented actor like Jonathan brings the right star power and presence to draw audiences to this thriller. We can't wait to get started on it."