APRIL 18 UPDATE: Walt Disney Studios has now crossed $2bn at the global box office for the 15th consecutive year.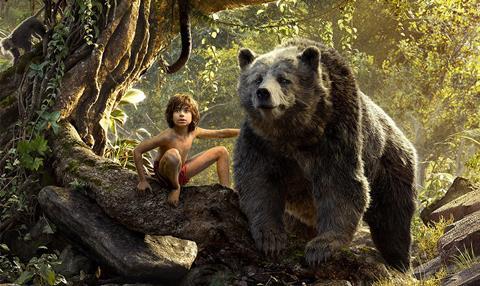 WALT DISNEY STUDIOS MOTION PICTURES INTERNATIONAL
After a promising opening last week, The Jungle Book took charge of the worldwide box office this weekend with a terrific estimated $240m for $291m to date.
Overseas, it enjoyed a second weekend of $136.1m from its 49 territories for $187.4m to date. China led the way with a strong $50.3m to mark the third biggest live-action Disney opening of all time.
Other highlights included the third biggest opening of 2016 in the UK with $13.7m, the biggest opening for a Disney live action film (excluding Marvel) in Vietnam and a $7.7m debut in France.
After two weeks in play in India, it's the biggest Disney release of all time with $20.1m, which also ranks as the third biggest Hollywood release behind only Furious 7 and Jurassic World.
The result also means that Walt Disney Studios has crossed $2bn at the global box office for the 15th consecutive year.
Globally, it grossed $20.4m at IMAX cinemas, with 525 IMAX screens overseas contributing $10m.
The Jungle Book swings into Czech Republic, Greece, Hungary and New Zealand next weekend.
In its tenth weekend of overseas release, Zootopia hopped to a further $10.8m from its 53 territories for an excellent $574.8m so far.
The animation is set to be the number one film of 2016 to date in France with 4.5m admissions, as well as holding well in the UK for $29.5m to date. China is the leading overseas territory with $234.2m.
It opens in its final major territory of Japan next weekend.
UNIVERSAL PICTURES INTERNATIONAL
UPDATE: After opening in seven more territories, The Huntsman: Winter's War added $17.8m from its 25 territories for an early $43.2m after two weekends in play.
The fantasy sequel landed top in the Philippines ($1.6m), Malaysia ($1.6m) and Singapore ($904k), while it's off to a good start in Korea with $2.1m from its 343 dates.
Holdover-wise, it charted third in Germany with $1.2m for $3.1m, at number two in Mexico with $1.1m for $5.1m and it took an extra $1m for $6.3m in the UK.
Along with its domestic bow, Winter's War opens in 36 more territories next weekend including China, France and Brazil.
The Boss grossed $2.5m from its 17 territories for $4m to date, with the majority of its weekend total coming from a $1.7m bow in Australia, on par with the likes of Identity Thief and Horrible Bosses 2.
With no new openings, My Big Fat Greek Wedding 2 danced to a further $1.3m from its 23 Universal territories for $26.7m overseas and $78.8m worldwide.
Hail, Caesar! and The Witch stand at $31.8m and $7.1m, respectively.
WARNER BROS PICTURES INTERNATIONAL
UPDATE: Batman v Superman: Dawn Of Justice is now the sixth highest grossing superhero film of all time overseas with $518m.
The epic battle fought to an estimated $15.3m from its 67 markets, led by Brazil holding firm with $2.2m for $31.7m to date, followed by France with $1.45m for $19.5m .
NU IMAGE
After impressing on its Chinese bow last week, action sequel London Has Fallen shot to an extra $9.8m from its 45 territories for $124.5m to date.
FOX INTERNATIONAL
UPDATE: Kung Fu Panda 3 chopped to an extra $7.8m from its 66 markets for $355.7m.
The weekend was led by a strong holdover in France as it dropped only 18% for $2.7m and a running tally of $12.2m, while the threequel opened with $685k from 298 screens in Holland.
Eddie The Eagle grossed $982k from its 38 markets for $9m, while The Revenant now stands at $337m following a $578k weekend in its 21 markets.
PARAMOUNT PICTURES INTERNATIONAL
UPDATE: Led by a $708k debut in Mexico, 10 Cloverfield Lane unearthed an extra $3.7m from its 54 markets for $31.4m to date.
The sequel also opened at number two in Hong Kong with $422k from 34 sites, while it added $275k in Brazil for $1m after two weeks and $175k in Venezuela for $1m.
It opens in Poland next weekend and in Italy and India the following weekend.
GAUMONT
According to ComScore, French reboot The Visitors: Bastille Day grossed $3.5m from its four territories for $54m after two weeks in play.
EONE
Opening with $1.6m in Australia, The Divergent Series: Allegiant took an overall $3.2m from its 61 markets to lift its overseas tally to $87.8m. It opens in South Korea on May 11 and China on May 20.
Gods Of Egypt stands at $107.8m ahead of its Germany release on Thursday [April 21].
LIONSGATE
On its international bow, Criminal found an estimated $2m from its 17 overseas territories.
STX
Opening in 12 extra markets, Hardcore Henry added $1.4m for $4.3m to date. Italy led the way with an estimated $420k debut from 181 sites, while Russia took $381k for $1.87m so far.