Companies strike deal to produce VR content for tentpole titles.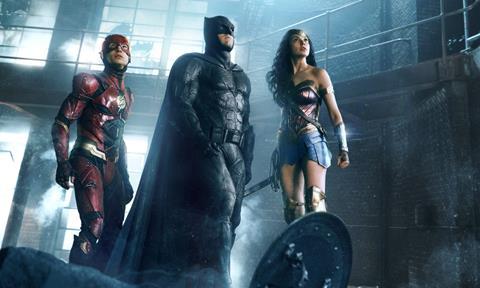 IMAX and Warner Bros Home Entertainment have agreed a deal to co-finance and produce virtual reality experiences for three of the studio's upcoming tentpole releases.
The deal commences with Zack Snyder's superhero movie Justice League in late 2017 and will be followed by Aquaman in 2018 and a third, as yet unannounced title in 2019.
The tie-in VR experiences will receive an exclusive window in IMAX VR centres before being made available across other VR platforms including in-home and mobile offerings.
The first of IMAX's VR centres launched in Los Angeles in January, and five additional pilot centres in New York, California, the UK and Shanghai are expected to open in the coming months. If the trial is successful, the company intends to roll out the centres globally.
Read more: IMAX, Odeon to launch first VR centre in Europe
As previously announced, IMAX launched a $40m VR fund in late 2016 with the aim of funding 25 experiences to be released alongside its film slate.
IMAX CEO Richard Gelfond commented: "It's fitting that with IMAX and Warner Bros' shared history of launching Hollywood movies in IMAX theatres, today we're entering into our first studio deal to bring original VR content to the multiplex.
"A key component of our vision for VR is to help usher in the first wave of high-end blockbuster-based content.
"Justice League and Aquaman feature some of the most beloved characters on the planet, providing iconic properties to launch this effort. This type of premium content will introduce audiences to virtual reality in standalone and multiplex-based IMAX VR centres as well as other platforms."
"We are excited to be partnering with IMAX to develop and deliver premium VR experiences, and believe that capitalizing on Justice League and Aquaman characters from our well-known DC properties will broaden the appeal of this fast growing technology," added Ron Sanders, president of Warner Bros Worldwide Home Entertainment Distribution.
Warner Bros plots Ready Player One VR
In a separate deal, Warner Bros is partnering with UK mobile manufacturing company HTC's virtual reality system Vive to produced a VR experience for Steven Spielberg's forthcoming sci-fi Ready Player One.
The film is slated for release on March 30, 2018, and Vive will prodcued multiple pieces of VR content to accompany its theatrical and home entertainment releases.