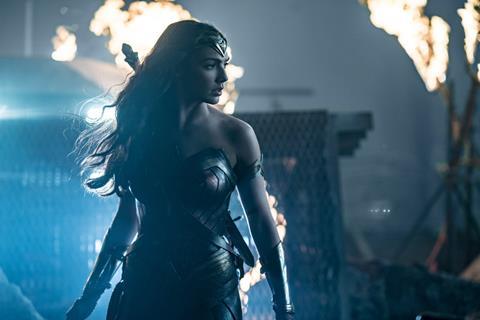 NOVEMBER 20 UPDATE: DC Entertainment's Justice League debuted in 65 international markets on a confirmed $185m to lead the weekend session as Thor: Ragnarok crossed $700m worldwide.
WARNER BROS PICTURES INTERNATIONAL
UPDATED: The tentpole's opening weekend came in above Wonder Woman's $125m debut weekend last summer, and fell more than $70m below the $256.5m opening weekend of Batman V Superman: Dawn Of Justice.
China generated $51.8m in the second biggest opening for a Warner Bros film behind Batman vs Superman, while Brazil delivered a record industry opening weekend on $14.2m. Justice League debuted in the UK on $9.5m, Mexico on $9.6m, South Korea on $8.5m, Russia on $6.4m, Australia on $6.2m, France on $6.15m, and Indonesia on $5.8m for the second biggest launch of a Warner Bros film behind Batman vs Superman.
The tentpole took $5.6m in the Philippines for a record Warner Bros debut, and $3.9m in Taiwan for the second biggest opening for a Warner Bros film behind Wonder Woman. Italy generated $3.6m, Malaysia $3.4m, Spain $3.1m, and Germany $3m.
By region, executives reported a $40.1m gross in Asia that ranks as the studio's second biggest behind Batman vs Superman, and $35.9m in Latin America where the film is top everywhere and delivered the biggest debut of the year-to-date. In Europe, Justice League generated $49.2m.
The IMAX international box office total of $13.7m from 765 screens registered IMAX's best November international opening. The film became the third biggest November IMAX opening weekend after Thor: Ragnarok and Doctor Strange, and the number three IMAX opening weekend for a DC Comics property.
Geostorm grossed an estimated $1.7m for a running intenational total of $172.5m. The Gerard Butler action film has reached $204.8m worldwide. It added $1.9m for $161.1m.
WALT DISNEY STUDIOS MOTION PICTURES INTERNATIONAL
UPDATED: Thor: Ragnarok grossed $24.8m internationally over the weekend to reach $491.9m. China remains the top territory on a confirmed $107.8m, followed by the UK on $37.1m, South Korea on $33.2m, Brazil on $27.4m, and Australia on $22.7m. The film earned an estimated $21m in Russia, $19m in Mexico, $19m in France, and $16m in Germany.
Pixar's Coco had another strong weekend in its early Mexico engagement with the fourth weekend generating $4m, bringing its running total to $48.4m. Coco ranks as the highest grossing release of all time in Mexico in local currency. The film will kick off an extended global roll-out this week starting in China, India, Russia and 18 additional territories day-and-date with the US.
FOX INTERNATIONAL
UPDATED: Murder On The Orient Express added $20.7m in 54 markets, lifting the international tally to $96.5m. Russia generated $3.2m for second place and an $11.9m running total while the UK produced $3m for $23.1m. Germany dipped just 12% from last weekend on $2.2m for $5.6m and Australia produced $2.1m for second place and $6.3m. Overall, Murder is outpacing Gone Girl by 98% in the same group of markets at current exchange rates. The film opens in 11 markets this week, including Spain and Sweden.
The Mountain Between Us added another $1.2m from 17 markets for $24.4m. France led the way on $481,662 for $1.5m and Brazil delivered $221,666 for $2.1m. The survival drama debuts in Italy this week.
UNIVERSAL PICTURES INTERNATIONAL
UPDATED: Universal and Blumhouse's Happy Death Day grossed a further $7.9m from 52 territories for a total of $43.5m. With $55.4m from North America, the horror has reached $98.9m. The film opened in France on Wednesday at number two on $1.6m. Germany generated $1.3m for sixth place, while Switzerland's opening weekend in both the French and German regions has produced $270,000.
South Korea delivered $2.7m for $7.5m after two sessions, passing the lifetime total of Don't Breathe. Italy generated $731,000 for a total of $2.2m, while Spain is holding at number three in week two on $591,000 for a total of $1.9m. Next weekend, the film opens in Colombia, Hong Kong and Thailand.
Marrowbone, the thriller from Spain that was produced by J.A. Bayona and is being released by Universal, is holding strong in its fourth week of release, grossing $776,000 for a total of $6.5m. Meanwhile, Victoria And Abdul grossed another $689,000 in 30 territories to raise the international total to $39.9m. Combined with $21.7m from North America, the worldwide total is $61.6m. Brazil generated $202,000 from a limited opening. The historical drama debuts in Argentina, Mexico and Vietnam this week.
Universal and Working Title's The Snowman grossed $585,000 from 28 territories over the weekend for $30.5m internationally, and $37.3m globally. Belgium produced $105,000 in its first session, while Turkey generated $35,000 from a limited release of 57 dates. Michael Fassbender's crime thriller debuts this week in Brazil, the Philippines and Russia.
STXinternational
A Bad Moms Christmas brought in a further $5.1m from 2271 locations, for $26.6m internationally and a worldwide total of $77.5m. Germany produced $1.6m in its second weekend, dipping 22% from last week, for $4.6m, which is 20% behind Bad Moms, 158% ahead of Horrible Bosses 2, 7% ahead of Neighbors 2 and 92% ahead of Office Christmas Party.
The UK produced $1.1m for $7.7m, down just 37%, from 423 locations in its third weekend, which is on par with Bad Moms, 48% ahead of Horrible Bosses 2, 5% ahead of Neighbors 2 and 104% ahead of Office Christmas Party. Elsewhere, Australia and New Zealand added $874,000 for $6.8m from 359 locations in its third weekend, which is 21% behind Bad Moms, 48% ahead of Horrible Bosses 2, 29% ahead of Neighbors 2, and 58% ahead of Office Christmas Party.
Scandinavia (Denmark, Finland, Norway, Sweden) added $476,000 from 313 locations in this weekend, for $2.3m, which is 7% behind Bad Moms, 88% ahead of Horrible Bosses 2, 32% ahead of Neighbors 2, and 188% ahead of Office Christmas Party. The comedy starring Mila Kunis, Kristen Bell, and Kathryn Hahn debuts in the Midde East this week.
STXfilms' The Foreigner currently stands at $135.2m, with $101.3m coming from international markets, and $33.9m from North America.
LIONSGATE INTERNATIONAL
Jigsaw crossed the $50m international mark after four weeks in release, thanks to a further $4.1m from 74 markets. The international total stands at $52.4m. The UK is the top grossing market on $6.5m, while Russia has produced $5.1m, Venezuela and Germany $4.9m each, and France $3.6m. Spain and Brazil are the next major markets to release this weekend.
My Little Pony: The Movie grossed $493,000 from 63 markets this weekend, for a $29.1m running total. The UK is the top market on $4.7m. There are no further releases for the film this month.