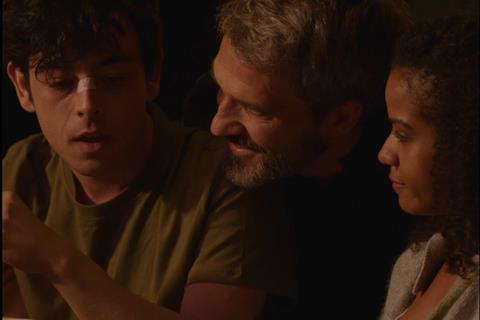 Kaveh Daneshmand's Turkey-France co-production Endless Summer Syndrome is among the winners from Karlovy Vary International Film Festival's Eastern Promises industry section, which held its awards this evening (July 5).
The film received the Karlovy Vary IFF Works in Progress award. It is currently in post-production ahead of a planned January 2023 launch, and will be the feature debut for Iranian filmmaker Daneshmand, who is based in the Czech Republic.
Scroll down for the full list of winners
Endless Summer Syndrome is a drama about a woman who receives an anonymous phone call, reporting that her husband is having a relationship with their adopted daughter. The woman begins to investigate the claim and makes discoveries she wishes were untrue.
The film is written by Daneshmand and Laurine Bauby, and produced by Gem Deger, Eva Larvoire, Cedric Larvoie and Daneshmand.
A statement from the jury noted "how the film pushes the boundaries of modern society and questions family love. We believe in the film's audience potential".
Veronika Liskova's Czech-Norwegian-Slovak drama The Visitors, about an anthropologist investigating a remote Norwegian community, took a special mention.
The Burdened, an Arabic-language Yemeni-Sudanese co-production, took the post-production development award. The film centres on a Yemeni family suffering an economic crisis in 2019, forcing them to difficult decisions to survive. Amr Gamal directs and co-wrote the script with Mazen Refaat, with the film looking for international sales, additional financing and colour grading.
Feature Launch
Of the nine projects in the Works in Progress Feature Launch section, Sophia Vukovic's Swedish comedy-drama My Best Friend's Baby took the main prize, with €10,000 (£8,593) award for further development.
A jury of UK Picturehouse Entertainment head of acquisitions Paul Ridd, Slovenian producer Danijel Hocevar, and Ukrainian producer Julia Sinkevych wrote, "Their take on queer parenthood and culture clashes is specific yet universal – and it's fun!"
My Best Friend's Baby is aiming for a €1.65m (£1.4m) budget, and to deliver the film in 2025 or 2026.
The First Cut+ award is for projects that have previously participated in international development lab First Cut, and is a collaboration with Trieste's When East Meets West event. Selecting from eight films, the award went to Graham Foy's Canada-US title The Maiden, about a suburban teenager mourning the death of his best friend, who finds a missing girl's diary.
With the war in Ukraine continuing, Eastern Promises partnered with Odesa International Film Festival (OIFF) to show the latter's own Work in Progress selection for this year while the festival cannot take place in Ukraine.
Pavlo Ostrikov's U Are The Universe took the €10,000 (£8,593) prize, with the jury noting "great potential in the whole project" and a strong author's statement "which defines the character of the film exactly while also attracting viewers to see it".
Set in a post-apocalyptic near-future, the film is about a man who thinks he is the last person alive in the universe, but receives contact from a French woman on a science station near Saturn.
The main Karlovy Vary festival will run until Saturday July 9, when an awards ceremony will be followed by the closing film, George Miller's Cannes 2022 premiere Three Thousand Years Of Longing.
KVIFF Eastern Promises 2022 winners
Works in Progress
Development award – The Burdened (Yem-Sud) dir. Amr Gamal
TRT award – Windless (Bul-It) dir. Pavel G. Vesnakov
Karlovy Vary IFF award – Endless Summer Syndrome (Tur-Fr) dir. Kaveh Daneshmand; special mention – The Visitors (Cze-Nor-Slovak) dir. Veronika Liskova
Works in Development – Feature Launch
Main award - My Best Friend's Baby (Swe) dir. Sophia Vukovic
Connecting Cottbus award – Dolphin (Pol) dir. Sonja Orlewicz-Zakrzewska
Rotterdam Lab award – Magdalena Sztorc, producer of Dolphin
First Cut+ award – The Maiden (Can-US) dir. Graham Foy
Odesa International Film Festival WIP award – U Are The Universe (Ukr) dir. Pavlo Ostrikov