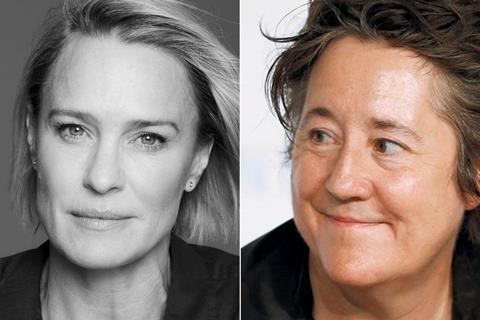 US actress and filmmaker Robin Wright will be the latest recipient of the President's Award at Karlovy Vary International Film Festival (KVIFF, June 30-July 8).
Wright will receive the award at the closing ceremony for the 57th edition, on Saturday, July 8. The festival has also added Rob Reiner's 1987 adventure comedy The Princess Bride starring Wright to its programme.
Wright joins Ewan McGregor and Alicia Vikander in receiving the President's Award at this year's event; previous recipients include Benicio Del Toro, Ethan Hawke and Jude Law.
The festival will also pay homage to US producer Christine Vachon. Titles produced by Vachon playing at the festival include Celine Song's Past Lives, which won Screen's Berlinale jury grid following its Sundance debut; and Emma Westenberg's You Sing Loud, I Sing Louder, starring father-daughter duo McGregor and Clara McGregor, co-written by Clara McGregor.
The festival will close with Bobby Farrelly's sports comedy Champions starring Woody Harrelson – a remake of Javier Fesser's 2018 film of the same name.
Further guests confirmed to attend the festival include Korean-Canadian director Song; and Swiss actor Vincent Perez, who stars in The Edge of the Blade, playing in the Horizons section.
Polish filmmaker Agnieszka Smoczynska will mentor the 10 participants for the eighth edition of Future Frames, a programme run by KVIFF and European Film Promotion to assist emerging European directors.
The selected participants will showcase their films to the festival audience, and engage in a programme introducing them to the film industry and media.
Future Frames 2023 participants
Anna Izabela Wowra (Cze) – Stuck Together
Amalie Maria Nielsen (Den) – The Shift
Sophia Mocorrea (Ger) – The Kidnapping of the Bride
Giulia Regini (It) – Cut From the Same Cow
Rinaldas Tomasevicius (Lith) - -15
Joris Tobe (Neth) – Frantic Attempts
Ines Pedrosa e Melo (Por) – Home, Revised
Monika Mahutova (Slovakia) – Standing Still
Christian Aviles (Sp) – Daydreaming So Vividly About Our Spanish Holidays
Kim Allamand (Switz) – Heart Fruit