British director's Palme d'Or winning film opened the 43rd edition of the festival.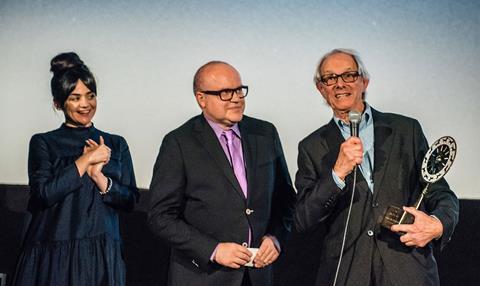 I, Daniel Blake director Ken Loach and actress Hayley Squires were in Ghent, Belgium last night (Oct 11) for the opening of the 43rd Film Fest Gent.
Loach, tireless at age 80, passionately introduced his Palme d'Or winning drama five times in five separate cinema screens at the Kinepolis multiplex. Loach said, "This is a story we needed to share. It is in a sense about how we choose to live together."
The veteran director also held a Q&A away from the red carpet, at a public screening at the Vooruit, a venue that has long been associated with socialist causes, where the audience gave him a lengthy standing ovation.
Festival artistic director Patrick Duynslaegher said he wanted to open the festival with I, Daniel Blake because it offered a shared artistic experience "without excluding social and political relevance."
Loach was also presented with the Jozef Plateau Honorary Award for his special contribution to the art of filmmaking.
The official completion in Gent includes 12 films:
Graduation, dir Cristian Mungiu (Rom/Fr/Bel)
Letters From War, dir Ivo Ferreira (Port)
Sweet Dreams, dir Marco Bellocchio (It-Fr)
Glory, dirs Kristina Grozeva, Petar Valchanov (Bul-Gr)
Harmonium, dir Koji Fukada (Jap-Fr)
Hermia & Helena, dir Matias Pineiro (US-Arg)
Home, dir Fien Troch (Bel)
The Ornithologist, dir Joao Pedro Rodgrigues (Port-Fr-Bra)
A Quiet Passion, dir Terence Davies (UK-Bel)
Reparer les vivants, dir Katell Quillevere (Fr-Bel)
Scarred Hearts, dir Radu Jude (Rom-Ger)
La secret de la chamber noire, dir Kiyoshi Kurosawa (Fr-Bel-Jap)
The festival's jury is headed by UK producer Jeremy Thomas and also includes director Tran Anh Hung, actors Lina El Arabi and India Hair, writer Jonathan Coe and director and actor Maaike Neuville.
Special programmes this year include a focus on Nordic cinema and a spotlight on Japan. The Belgian Cinema Today programme presents a range of local cinema and TV.
Ghent also hosts the 16th World Soundtrack Awards on Oct 19-20. An Oct 20 concert with the theme 'scoring for television' will include honorary guest Ryuichi Sakamoto, who receives a lifetime achievement award. Sakamoto and American composers Jeff Beal and Jeff Russo will also take part in a film music seminar.
Other guests attending the festival include Olivier Assayas, Terence Davies, Mark Rappaport, Derek Cianfrance and Isabelle Huppert.
Film Fest Gent continues through Oct 21, when it will close with Bavo Defurne's Souvenir starring Isabelle Huppert.