Short-listed projects included On Screen Off Screen and How To Kill Uffie.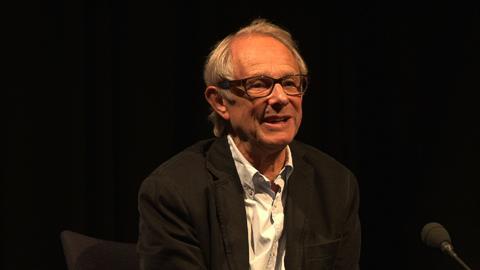 Interactive documentary The Flickering Flame, exploring Ken Loach's 50-year career, has won the Arte International Prize at the Pixel Market.
The website, app and film is being overseen by Ken Loach's long-time producer Rebecca O'Brien at Sixteen Films in collaboration with Paris-based digital production house Upian.
As previously reported by ScreenDaily, the production will explore Loach's career through the battles he and his team faced to make his films.
The filmmaker's son Jim Loach, whose own credits include Oranges and Sunshine and episodes of TV series such as Shameless and DCI Banks, is directing the central, interview-led documentary.
The Flickering Flame was among eight projects in the running for the Arte prize, all of which were pitched at the Pixel Market Finance Forum on Wednesday (Oct 8) and then discussed in one-to-one meetings in the Pixel Market the following day.
Other projects shortlisted for the ARTE award included On Screen Off Screen, following the fate of five Syrian citizen journalists, and How To Kill Uffie, an intriguing celebrity reality hybrid revolving around Anna Hartley, better known as the pop star "Uffie", exploring her decision to disappear from public life, through real-life footage and a dramatisation of her past, partly directed by her.
Some 120 producer-led teams applied to attend the Pixel Market this year and 32 projects, including the eight in competition, were invited to attend.
Other prizes
In other prizes open to all projects, the Cinekid Pixel Prize, offered to the best children-focused project by the Amsterdam-based festival, went to Shipantics (www.shipantics.com) from Richard Glynn and Eoghan Dalton of Dublin-based transmedia studio Shipantics.
The episodic puzzle adventure game, web-series and in-App TV series revolves around a crew of misfit, trainee sailors at the Barnacle Academy. The project was developed at the Pixel Lab this year, Power to the Pixel's main development programme.
"We've come across more projects this year where a game is at the heart of the project, which is a wonderful development as this wasn't even considered a couple of years ago and gives way to a whole range of new projects to be explored on other platforms," said Cinekid head Fleur Winters.
The beActive Pixel Market Prize for scripted content went to Danish project Jade Emperor Versus 5th Grade, a children's kung fu adventure comprising an animated TV series, iPad games and children's books.
It is directed by Lasse Lindsteen and produced by Jacob Oliver Krarup of Fourhands Film, which was at Cannes this year with the much-praised short Whale Valley. Darin Mailand-Mercado, who previously worked on transmedia project Cloud Chamber, is also attached as a writer and producer.
"We have selected Jade Emperor vs 5th Grade because of the originality of the main concept and for the cross-media plan suggested," said Nuno Bernardo, CEO of TV, film and digital studio beActive.
"Also the fact that the project was aimed at tweenie boys, a market underserved as most of the properties in the market are aimed at young girls."
The new IFP Pixel Market Prize went to Tilda Swinton-starring The Infinity Engine, an installation, film and online interactive website created by internationally acclaimed artist Lynn Hershman in collaboration with producer Lisa Cortes, whose credits include the Academy Award and Sundance winning film Precious.
The project revolves around a sci-fi thriller starring Swinton as a woman who stumbles on a plot by a biotechnology company to genetically alter the future of mankind.
It completes a trilogy of features – including Conceiving Ada and Teknolust – made with Swinton.
"Their project exemplifies the innovative cross platform storytelling that we want to support," said Joana Vicente, executive director of IFP and the Made in NY Media Center.
The prize comprises a six-month fellowship at the Media Center and an invitation to participate in next year's No Borders programme.
Text Me wins Pixel Lab
Beyond the Pixel Market awards, Victoria Mapplebeck's Text Me was announced as the winner of The Pixel Lab 2014.
The creative documentary and multi-platform storytelling platform revolves around the tale of a failed love affair captured in text messages on an old Nokia phone, which opens on to a wider exploration of the implications of personal stories and memories stored on phones and hard drives.
The project previously won the Merging Media Pixel Market Prize in 2013. The platforms include an installation, internet site and graphic novel, which is represented by literary agents Curtis Brown.
The Pixel Lab is a project-focused course for European media professional comprising a one week residential workshop followed by a second meeting during the Power to the Pixel Cross-Media Forum.
The final day of the Forum today (Oct 10) will revolve around a closed-door think tank meeting for fund representatives to discuss new forms of sustainable finance for the digital age.