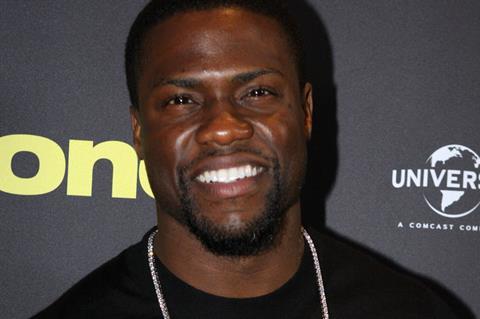 UPDATE: Kevin Hart has stepped down as 2019 Oscar host after he was asked by the Academy to apologise for old homophobic tweets.
The US comedian and actor, who is currently on tour in Sydney, Australia, announced his decision on Twitter. "I have made the choice to step down from hosting this year's Oscar's….this is because I do not want to be a distraction on a night that should be celebrated by so many amazing talented artists. I sincerely apologize to the LGBTQ community for my insensitive words from my past.
"I'm sorry that I hurt people.. I am evolving and want to continue to do so. My goal is to bring people together not tear us apart. Much love & appreciation to the Academy. I hope we can meet again."
EARLIER STORY: The fate of Kevin Hart's role as 2019 Oscar host hangs in the balance after the US comedian and actor revealed on Friday (7) that he has refused a request by the Academy to apologise for old homophobic tweets.
In a second Instagram post in one day Hart, who is currently in Australia and confirmed earlier this week he had been asked to host the 91st Academy Awards in February, said he received a call from the Academy and was asked to address the tweets from 2009 and 2010, adding that if he did not comply, his understanding was the body would move on and search for a new host.
"I chose to pass," said Hart in a video. "I passed on the apology. The reason why I passed is I've addressed this several times. This is not the first time this has come up. I've spoken on it. I've said where the rights and wrongs were. I've said who I am now versus who I was then. I've done it. I've done it. I'm not going to continue to go back and tap into the days of old when I've moved on and I'm in a completely different space in my life.
"The same energy that went into finding those old tweets can be the same energy put into finding the response to the questions that have been asked years after years after years. We feed into the internet trolls and reward them. I'm not going to do it, man. I'm going to be me. I'm going to stand my ground. Regardless, Academy, I'm thankful and appreciate for the opportunity. If it goes away, no harm, no foul."
The Academy would appear to be attempting to defuse a potentially embarrassing situation directly and at time of writing had not replied to an email request for comment from Screendaily.
The subject of homophobic tweets by Hart, some of which have been deleted, resurfaced this week, as did Hart's relationship with his ex-wife Torrei Hart, which the performer admitted in his memoir I Can't Make This Up: Life Lessons was a marriage that was at times violent.
The tweets were a series of homophobic one-liners. Hart also made remarks in his 2010 comedy special Seriously Funny, in which he said one of his biggest fears was that his son would turn out to be gay. Hart said that "as a heterosexual male, if I can prevent my son from being gay, I will."
The old statements have sparked a backlash from #MeToo supporters, the LGBTQ community, and awards pundits in the middle of an awards season race that has put gay themes, characters and icons front and centre through the likes of Can You Ever Forgive Me?, Bohemian Rhapsody, The Favourite, Disobedience, and A Star Is Born.
Erik Anderson, the founder of AwardsWatch, tweeted: "Considering how many of the Oscars' biggest fans are women and gay men it's quite something for the Academy to hire a guy who beat one wife, cheated on another when she was eight months pregnant and said one of his biggest fears is his son growing up and being gay."
On Thursday a Care2 petition said, "It is shocking that in a year marked by the #MeToo movement and great Oscar-worthy LGBTQ films, that the Academy would select Mr. Hart to be their host for this years Oscars," said the Care2 petition.
Responding to the initial backlash, Hart posted an earlier video and message on Instagram, apprently sent while lying topless in a hotel bed. "I work hard on a daily basis to spread positivity to all…with that being said. If u want to search my history or past and anger yourselves with what u find that is fine with me. I'm almost 40 years old and in love with the man I am becoming."