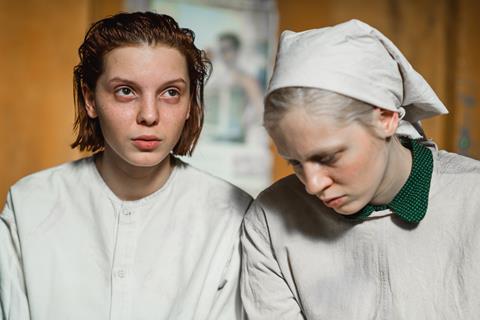 In the run-up to the Canadian premiere in TIFF, Kino Lorber has acquired US rights to Kantemir Balagov's Cannes Un Certain Regard best director prize-winner and festival favourite Beanpole.
The postwar Leningrad-set drama just received its North American premiere in Telluride and screens in TIFF Contemporary World Cinema on Monday (9). After that it plays New York Film Festival and San Sebastian prior to a January 29, 2020, launch at New York's Film Forum followed by nationwide rollout, and VOD and home video in spring.
Oscar-nominated producer Alexander Rodnyansky (Elena, Loveless, Leviathan) of AR Content produced the drama about a nurse and a soldier at the end of the Second World War who try to rebuild their lives after one of the most brutal sieges in modern history. Viktoria Miroshnichenko and Vasilisa Perelygina star in their debut roles.
Balagov wrote the original story inspired by Nobel Prize-winning author Svetlana Alexievich's book, The Unwomanly Face Of War. His first film Closeness won the FIPRESCI prize after it premiered in Cannes Un Certain Regard in 2017.
"We are very excited that Kino Lorber will bring Beanpole to American audiences," said Rodnyansky. "At just 28 years old, Kantemir Balagov is able to seamlessly weave contemporary themes into a traditional World War II drama. Beanpole is an incredibly relevant film which focuses on a woman's role in the world, in this case post WWII Leningrad, and gives audiences an all-encompassing look at a woman's post-traumatic stress of surviving the horrors of war and combat, a tale so few audiences have experienced."
Kino Lorber senior vice-president Wendy Lidell added, "Like those of his teacher, Alexander Sokurov, Kantemir Balagov makes films with great moral depth and stunning visual beauty. Beanpole creates a world filled with complex emotions that cannot be easily forgotten. We are proud and delighted to introduce this exciting young artist to North American audiences."
Lidell brokered the deal with Wild Bunch head of international sales Eva Diederix, and CAA Media Finance.
Kino Lorber's release credits include Oscar-nominated Fire At Sea and Of Fathers & Sons.