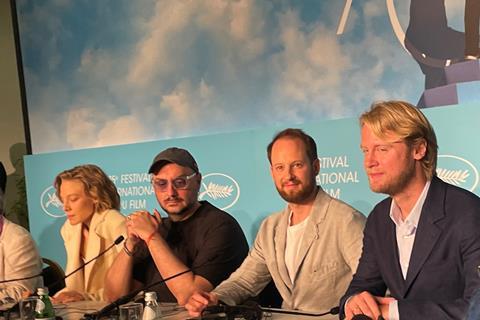 Dissident Russian director Kirill Serebrennikov came out defiantly against a boycott of Russian culture at a Cannes press conference today (Thursday, May 19) promoting his Competition title, Tchaikovsky's Wife, describing the boycott as "unbearable" and calling for an end to the sanctions on Roman Abramovich.
"Boycotting Russian culture strikes me as unbearable – Russian culture has always promoted human values, the fragility of man, the compassion one can have," said Serebrennikov.
"Russian culture has always been anti-militaristic and anti-war, because war seeks to underdo what I have just listed. People who trigger wars throw people into the trenches, and aren't interested in the life of these people or the pain they feel. The words 'culture' and 'war' are antagonistic."
The Cannes Film Festival has barred official Russian delegations and individuals with links to the Russian government from its 75th edition.
Serebrennikov addressed receiving funding for Tchaikovsky's Wife from Russian billionaire Roman Abramovich – who allegedly has close ties to Russian president Vladimir Putin – via Abramovich's Kinoprime film fund, which also helped finance Serebrennikov's Petrov's Flu. Abramovich has been sanctioned by the UK and the European Union.
"Abramovich helps modern art, he has for a long time now," he said. "He has been a real patron and in Russia this patronage has always been deeply appreciated. It's thanks to him we have arthouse cinema.
"He does quite a lot of good as well. President Zelensky asked Joe Biden to not place Abramovich under American sanctions and he isn't [because he is] one of the key people in discussions for peace. If we achieve this, he will be one of the people who has forged this peace. That's something I agree entirely with in terms of President Zelensky – we have to lift the sanctions against Abramovich."
Serebrennikov did not confirm or deny whether he would continue to use Kinoprime film fund money to help finance his films going forward.
On whether Serebrennikov will give any money to support the victims of the war in Ukraine, as Abramovich has vouched to do, he said: "It's very important to help the victims. There are a number of refugees in Ukraine and in Russia, too, a certain number of lives have been shattered. It's very difficult and traumatising for many people, particularly considering the Russians feel guilty. It's important to help all the victims and to help those who are sent to fight and the families have no income anymore. Artists have to help these people and I do so myself. I'm not going to show you the bills, of course."
Serebrennikov also defended the accusation that he has historically received money from Russian political figure Vladislav Surkov for a theatre adaptation, which has led to the Ukrainian Film Academy's demands for a boycott of Serebrennikov at Cannes. "Mr Surkov is not an oligarch, he's a civil servant, and I would also add that up until a given point in time there was only the state which financed culture. Up to a given point in time, financing through the state was not toxic, there was nothing shameful, it was quite acceptable. Great things have been done with this money from the ministry of culture in the field of theatre and cinema."