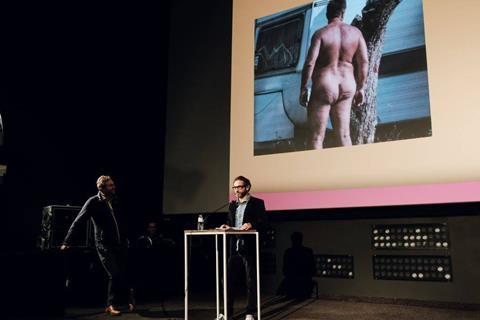 Later this month, Belgian director Koen Mortier will start shooting his third feature Angel (Un Ange), which will shoot for one week in Belgium and six weeks in Senegal.
Mortier, whose past films include Ex-Drummer and 22nd of May, plans to deliver the film in spring 2018. Stray Dogs handles sales and Paradiso has already acquired Benelux rights.
Adapted from the novel by Flemish writer Dimitri Verhulst, the $2.4m (€2m) Belgian-Dutch co-production is the fictional account of the death of Belgian cyclist Frank Vandenbroucke, recounted by the Senegalese prostitute who loved him in his final days.
"It's not a biopic, it's a freewheeling script about cycling, being in love and being alone," Mortier said in a pitch at Connext, the international industry event presented this week in Ghent by Flanders Image. "I wanted to show the dreams and fears of both characters. It's love between two beautiful but sad human beings."
Producer Eurydice Gysel of Czar noted that the team was also crowdfunding to be able to shoot on 35mm. The film was first introduced at Rotterdam's CineMart in 2015.
Angel was one of 10 projects in development or pre-production pitched at Connext, with the Perfect Pitch award going to Patrick to be directed by Tim Mielants and produced by Bart Van Langendonck of Savage Film, the production company behind Bullhead, The Ardennes and The Racer And The Jailbird. The pitch jury was comprised of Mark Adams of the Edinburgh International Film Festival, Deborah Rowland of We Are The Tonic and Marit van den Elshout of Rotterdam.
Van Langendonck said that he had already had interest in the project from sales companies attending Connext. He said, "We've very happy with this [award], it underlines the strength of the project, which we really just started developing. We're on a straight line to shoot next summer." The film is expected to be delivered in 2019.
The full list of 10 projects pitched at Connext were:
Angel (Un Ange), wr/dir Koen Mortier, prod Eurydice Gysel (Bel-Neth)
Adapted from the novel by Flemish writer Dimitri Verhulst, the film is the fictional account of the death of Belgian cyclist Frank Vandenbroucke, recounted by the Senegalese prostitute who loved him. Stray Dogs handles sales.
The Barefoot Emperor, wr/dirs Jessica Woodworth, Peter Brosens, prods Maarten D'Hollander, Woodworth, Brosens (Bel)
A drama-comedy about a Belgian man who is asked to be Emperor of Europe after the EU implodes. The film is a sequel to 2016's King of the Belgians (which premiered in Venice). "It's a satire about a Europe that's burning and about a king that surprises us all and truly rises to the occasion in his own humble, barefoot Belgian way," Woodworth said. Be For Films handles sales.
Binti, wr/dir Frederike Migom, prod Katleen Goossens (Bel-Neth)
This live-action family feature is about a 12-year-old girl of Congolese heritage living in Belgium, who tries to get her father to marry her friend's mother. The target audience is ages 8 and up.
The Chapel, wr/dir Dominique Deruddere, prods Bart Van Langendonck, Chris Coen (Bel-UK)
A drama/psychological thriller of a young virtuoso pianist who suffers from stress and isolation during the Queen Elizabeth world competition. The cast of the English-language film includes Lucy Boynton (Sing Street) and James D'Arcy (Master and Commander). Oscar nominee Deruddere compared it to "Black Swan meets Shine."
La Civil, dir Teodora Ana Mihai, prods Irinia-Andreea Malcea, Bogdan Mihai, Nicolas Celis (Bel-Rom-Mex)
A woman starts to investigate the disappearance of her daughter, who she thinks has been kidnapped by a drug cartel in North Mexico. The director co-wrote the script with Habacuc Antonio De Rosario. "It's about a mother's extraordinary transformation from housewife to militant," Mihai said. The project is now in Torino FilmLab and Mihai is attending Cannes Cinefondation Residence.
Cleo, wr/dir Eva Cools, prods Jan De Clercq, Annemie Degryse (Bel)
A 17-year-old girl recovering from a traumatic car accident meets a mysterious man at a club. "It was important for me to make a film about the fragility of life," said Cools, who makes her feature directorial debut. Be For Films handles sales.
Floating, dir Anke Blonde, prods Dries Phlypo, Jean-Claude van Rijckeghem (Bel-Neth)
Blonde makes her feature directorial debut with this comedy-drama about a woman who rebels against her husband and parents. "It will be a subtle dramatic comedy about how ordinary life can be absurd," she said.
Patrick (De Patrick), dir Tim Mielants, prod Bart Van Langendonck (Bel-Neth-Ger)
Drama-comedy about a craftsman working at his father's naturist campsite. Belgian star Kevin Janssens (The Ardennes) will lead the cast. The producer likened the tone to the TV series Fargo.
Rain Anyway (Wees Blij Dat Het Regent), wr/dir Gust Van den Berghe, prod Tomas Leyers (Bel-Neth-Fr)
A boy with special powers of magnetism joins a small circus in the run up to World War I. Van den Berghe, whose credits include Blue Bird, draws on some of his own family history. Belgium's Circus Ronaldo is involved in the project, with Danny Ronaldo taking the lead role. Coproduction Office handles sales.
Tench (Muidhond), dir Patrice Toye, prod Antonino Lombardo (Bel)
A man is released from prison and wants to become a better man, when he returns to his mother, his dog and his rundown town by the North Sea. "It's a morally complicated and I hope an utterly gripping story," said Toye.
Screen International is a media partner of Connext.