Paramount's 10 Cloverfield Lane lands second with $2.3m (£1.6m) from its 488 sites.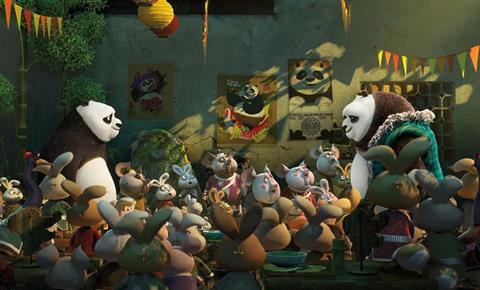 FOX
Despite a 43% drop (excluding previews), Kung Fu Panda 3 retained its grip on top spot at the UK box office.
Fox's threequel chopped its way to an extra non-final $2.5m (£1.74m) for $10.2m (£7.1m) to date. Though direct competition arrives this week in the form of Disney's Zootropolis, it should still prosper over the Easter school holidays.
However, it may struggle to match either Kung Fu Panda's $29.2m (£20.29m) or Kung Fu Panda 2's $24.3m (£16.87m) results in the UK. At the same stage, the sequel stood at $13.3m (£9.24m).
Also for Fox, Deadpool added $748,000 (£519,035) for an excellent $53m (£36.75m) after six weeks in play. It will shortly overtake Iron Man 3's $53.3m (£37m) total as the fifth biggest superhero film of all time.
Kapoor And Sons launched with a non-final $271,000 (£187,745) from its 64 sites, while Alvin And The Chipmunks: The Road Chip took $179,000 (£124,073) for $22.9m (£15.87m) to date.
The Revenant stands at $33.2m (£23.02m) after ten weeks in play.
PARAMOUNT
10 Cloverfield Lane couldn't quite match its impressive domestic opening as it charted second.
Paramount's sort-of sequel landed with $2.3m (£1.6m) from its 488 sites, achieving a stronger site average than Kung Fu Panda 3 with around $4,800 (£3,300). It will hope its strong reviews and word-of-mouth can lead to a lengthy run.
Back in 2008, Cloverfield posted an impressive UK bow of $5m (£3.49m) from its 386 sites and went on to take $13.8m (£9.6m). 10 Cloverfield Lane faces a battle to come close to that number.
DISNEY
Though it won't be counted officially in this week's chart, Disney's Zootropolis has banked a auspicious $1.9m (£1.3m) in previews this weekend from its 553 sites.
LIONSGATE
London Has Fallen remained in third as it posted the lowest drop of the top ten.
Lionsgate's action sequel fell 41% as it enjoyed a $1.5m (£1.06m) third weekend for a healthy $12m (£8.33m) to date, and should easily hit £10m in the coming weeks.
Also for Lionsgate, Sing Street opened in Ireland with a non-final $239,000 (£165,657) debut, including $66,000 (£45,490) in previews, from its 93 sites. It opens in the rest of the UK on May 20.
EONE
The Divergent Series: Allegiant fell over 50% on its way to a $1.1m (£767,920) second weekend.
eOne's continuation of the young adult franchise stands at $4.6m (£3.19m) after 11 days in play, and it now faces a struggle to avoid becoming the lowest-grossing outing of the series to date.
Divergent took $9.5m (£6.6m) and the sequel Insurgent grossed $11.4m (£7.9m) on their respective runs.
ENTERTAINMENT
Rounding off this week's top five was Entertainment's The Boy with a solid $1.05m (£726,176) from its 397 sites.
It missed out on being director William Brent Bell's best UK debut, but did at least win the mini-battle of the horrors headlined by The Walking Dead stars, topping The Other Side Of The Door's $379,000 (£262,955) debut from 335 sites.
STUDIOCANAL
High-Rise moved into the UK box office with a $778,000 (£541,051) debut, including $146,000 (£101,616) in previews, from its 153 sites.
Studiocanal's release of Ben Wheatley's latest film recorded the highest site average of the week at $5,084 (£3,536), a promising start for a tricky film.
High-Rise will soon become Wheatley's best-ever UK performer, currently Sightseers' $951,000 (£661,077), although it's worth noting that it's received the widest release of any of Wheatley's films.
UNIVERSAL
In its third weekend, Universal's Hail, Caesar! added $572,000 (£397,077) for $5.9m (£4.12m) to date.
As expected, it is now the Coen Brothers' fifth best UK performer, but it'll need a boost to overtake their fourth best, currently Intolerable Cruelty, which scored a $9.5m (£6.62m) result.
Also for Universal, The Witch failed to keep audiences enchanted as it posted a hefty drop for $256,000 (£177,505) and a ten-day tally of $1.3m (£882,765).
SONY
Falling 58% in its fourth weekend, Sony's Grimsby took $303,000 (£210,000) for $7m (£4.89m) to date.
Also for Sony, two new entries didn't make much of an impression as Risen posted a UK bow of $84,000 (£58,000) from 163 sites, and Rock The Kasbah fared even worse with $5,500 (£3,800) from 83 sites.
CURZON ARTIFICIAL EYE
With some sites still to report, Curzon Artificial Eye's Anomalisa grossed an extra $125,000 (£86,548) for $636,000 (£441,206) to date.
PICTUREHOUSE ENTERTAINMENT
Released in 33 sites through Picturehouse Entertainment, Marguerite posted a UK bow of $60,000 (£41,318).
VERTIGO RELEASING
In its second weekend, Vertigo Releasing's Fifty Shades Of Black added $24,000 (£16,570) for a ten-day tally of $222,000 (£153,874).
UPCOMING RELEASES
This week sees saturation releases for Disney's Zootropolis, Warner Bros' Batman V Superman: Dawn Of Justice and Universal's My Big Fat Greek Wedding 2.
Soda Pictures' Disorder, Dogwoof's Speed Sisters and Vertigo Releasing's Welcome To Me are among the films receiving a limited release.