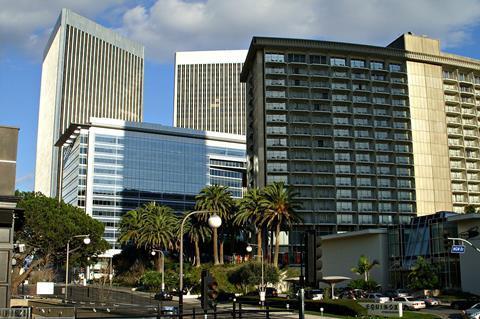 A group including organisers of the LA Screenings Independents television market is launching Virtual Screenings 2020, a 'digital market' designed to replace this year's recently cancelled LA Screenings and perhaps other markets called off because of the coronavirus pandemic.
Created by trade publication Prensario International in association with LA Screenings Independents producers National Association of Television Program Executives (NATPE) and Events TM, the initial event will run from May 12-21 – when the independent and studio portions of the LA Screenings had been set to take place – and target 5,000 key buyers from around the world.
Distributors including the Hollywood studios and independent sellers from Latin America, Turkey, Europe and Asia are being invited to participate, said the organisers, though no participating companies were named.
Buyers will be able to register for free and get access to a home page with distributor logos where they will be able to watch trailers, previews or complete episodes of content on offer. They will also be able to access company information and free digital tools and services.
Organisers said the digital meetings "will recover the personal interaction and flow of business lost to the content industry" because of the cancellations of event such as the LA Screenings, Series Mania and MIPTV (which is itself launching an online alternative after dropping its live event plans two weeks ago).
The companies also indicated that they will make "efforts to expand to other canceled markets" with the digital alternative plan.
In a statement, Prensario International director Nicolas Smirnoff said that industry response to the Virtual Screenings 2020 plan "has been great. In fact, we launched the initiative pushed by many customer requests. We want not only to replace the cancelled markets, but also to create new, empowered tools for the digital era. The 'Virtual Screenings' must recover the business flow and add important digital value."
EventsTM CEO Isabella Márquez added: "Now is a time for us to be creative and find new ways to come together. The desire for content, which has never been higher than in 2020 has not changed just because of the world's event. I am so happy to work with such amazing partners to present an alternative solution to this year's LA Screenings."
NATPE CEO JP Bommel commented: "My first thought goes to the safety and health of the distributors, buyers and partners who were planning to attend LA Screenings Independent in May, they are a part of our family. At NATPE, our mission is to be the indispensable resource in the evolution of content as the conduit to connectivity, business insights and opportunity. In these challenging times, I am pleased that we will be able to fulfill that promise by delivering a virtual alternative to the market through this great partnership with Prensario and Events TM. We want our clients and partners to know that we are in this crisis together and we'll continue to find ways for them to do business."