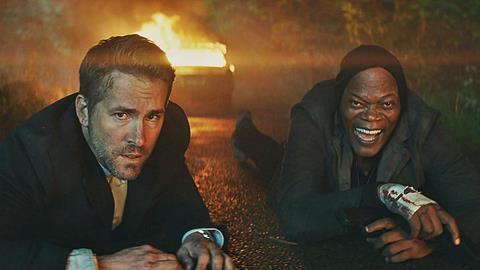 Faced with no new releases, The Hitman's Bodyguard held on to top spot as summer ended and delivered the worst season in more than a decade, according to ComScore.

Saddled with the familiar brew of tired sequels, gratuitous reboots and a panoply of high-quality TV and entertainment alternatives, summer 2017 generated $3.8bn and dropped 14.6% against summer 2016. One has to go back to 2006 for a lower score – $3.7bn unadjusted for inflation.
Year-to-date trails 2016 by 6.5% as the four-day Labor Day holiday weekend generated $95.9m overall and $67m from the top 12.
It was a fitting send-off for a miserable summer. Valerian and latest instalments in storied franchises like Pirates Of The Caribbean, Cars, and Planet Of The Apes all disappointed. Inflation and premium pricing will mask lower ticket sales to a point, but the fact is attendance has dropped by some 18%. International box office is up several points on last summer, however that arena faces the major distraction of the World Cup in Russia next summer from June 14-July 15, 2018.
Wonder Woman, Guardians Of The Galaxy Vol. 2, Despicable Me 3, Spider-Man: Homecoming and breakouts Dunkirk, Girls Trip and Baby Driver all excelled, while Amazon Studios' The Big Sick sits on a notable $40.9m through Lionsgate.
Top five North American summer 2017 releases
Title / Distributor / Opening weekend / Gross to date
Wonder Woman / Warner Bros / $103.3m / $408.9m

Guardians Of The Galaxy Vol 2. Disney-Marvel Studios / $146.5m / $389.6m

Spider-Man: Homecoming / Sony / $117m / $324.1m

Despicable Me 3 / Universal-Illumination / $72.4m / $257.9m

Dunkirk / Warner Bros / $50.5m / $178.8m
Returning to the Labor Day top 10, there was no new wide release and most films held their position in the top 12. The Hitman's Bodyguard added $10.5m for $55.2m. Sony re-released Close Encounters Of The Third Kind on its 40th anniversary and the sci-fi staple arrived at number 14 on $1.8m from 901. It grossed more than the Weinstein Company's Tulip Fever starring Alicia Vikander – a film that sat on the shelf for years while the distributor worked out how and when to dump it. The period piece debuted to mostly unfavourable reviews at number 24 on $1.2m from 765.
Imax released the first two episodes of Marvel Television and ABC's action-adventure Inhumans in 18th place on $1.5m from 393 sites. Pantelion opened hit Mexican comedy Do It Like An Hombre in 23rd place on $1.2m from 382. Overall the top 12 generated $53m for a 4.4% gain over last weekend's abysmal session and a 28.8% drop against the comparable session in 2016.
Summer bears the heavy burden as the marquee season, however the studios have become more open to spreading out their tentpoles across the year. The fourth quarter in particular holds plenty of promise (then again, the same was said of the summer): Blade Runner 2049, Thor: Ragnarok, Justice League, and Star Wars: The Last Jedi are the most obvious potential highlights and a lot is riding on their ability to pull in the crowds.
Opening in the last 10 days of the year and expected to give 2018 a strong start are: The Six Billion Dollar Man, Jumanji: Welcome To The Jungle, and The Greatest Showman. A revival is expected to begin as early as this week when New Line's Stephen King adaptation It debuts through Warner Bros. The other wide release is Open Road's rom-com Home Again starring Reese Witherspoon and Nat Wolff.
Confirmed top 10 North America September 1-3, 2017
Film (Dist) / Conf wkd gross / Conf total to date
1 (1) The Hitman's Bodyguard (Lionsgate-Summit) Lionsgate International $10.5m ($13.3m) $55.2m ($57.9m)
2 (2) Annabelle: Creation (Warner Bros) Warner Bros Pictures International $7.5m ($9.2m) $89.2m ($90.9m)
3 (4) Wind River (TWC) TWC International $6.2m ($7.8m) $18.7m ($20.3m)
4 (3) Leap! (TWC) TWC International $4.8m ($6.3m) $11.3m ($12.8m)
5 (5) Logan Lucky (Bleecker Street) $4.41m ($5.5m) $21.4m ($22.5m)
6 (6) Dunkirk (Warner Bros) Warner Bros Pictures International $4.37m ($5.6m) $179m ($180.2m)
7 (7) Spider-Man: Homecoming (Sony) Sony Pictures Releasing International $3.7m ($4.7m) $324.1m ($325.1m)
8 (13) Despicable Me (Universal) Universal Pictures International $2.5m ($3.25m) $258m ($258.8m)
9 (10) The Emoji Movie (Sony) Sony Pictures Releasing International $2.46m ($3.27m) $80.3m ($81.1m)
10 (11) Girls Trip (Universal) Universal Pictures International $2.3m ($2.8m) $111.6m ($112.1m)