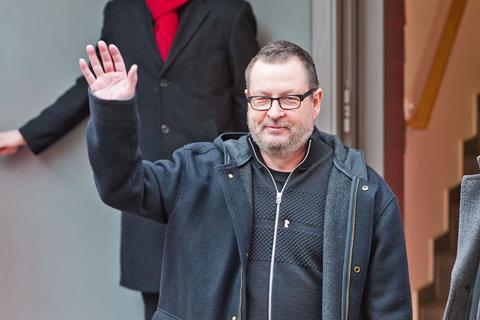 Danish director Lars von Trier has been diagnosed with Parkinson's disease, his producer has confirmed.
A statement from Louise Vesth of Zentropa said von Trier was "in good spirits" and receiving treatment in the run-up to the Venice world premiere of The Kingdom Exodus (Riget), Season 3 of his series that debuted in 1994.
"In agreement with Lars von Trier we want to inform you that Lars was diagnosed with Parkinson's Disease just before the summer holidays," the statement said.
"In order to avoid any speculation about his health leading up to the premiere, Zentropa has sent out this short statement to the Danish press.
"Lars is in good spirits and is being treated for his symptoms and the work to complete The Kingdom Exodus continues as planned. However, the illness means that Lars will only take part in interviews to a very limited extent. Thank you for your understanding in this matter. There are no further comments."
The Kingdom series debuted in 1994 followed by a second season in 1997. The story centres on medical staff at a modern Danish hospital who believe the place may be haunted. Season 3 follows a sleepwalking patient who tries to save the hospital from disaster and ends up reopening the door to the mysterious Kingdom.
Mikael Persbrandt, Lars Mikkelsen, Nikolaj Lie Kaas, and Tuva Novotny star and there are guest star roles for Alexander Skarsgård and David Dencik.
Zentropa is producing Season 3 and co-producers are NENT Group, DR, Film I Vast, Zentropa Sweden and Ginger Pictures. The series is supported by Nordisk Film & TV Fond, Creative Europe/MEDIA with tax shelter provided by BNP Paribas Fortis Film Finance.
It was recently announced that Mubi acquired rights for North America, UK, Ireland, Latin America, Turkey, and India. Prior to an autumn release the streamer will release restored director's cuts of the first two seasons.
Von Trier's feature credits include Antichrist, Cannes 2000 Palme d'Or winner Dancer In The Dark, Breaking The Waves, Dogville, Melancholia and Nyphomaniac.