The film generated more than $1m from pre-sales, the majority of which came via the online service Tugg.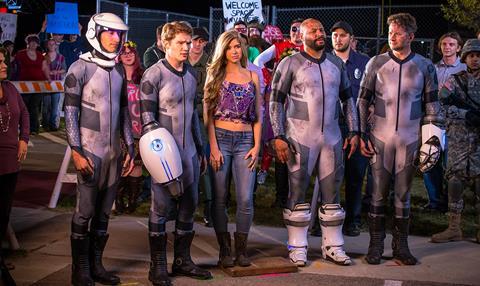 Sci-fi action comedy Lazer Team has set a record for a cinema on-demand theatrical release, generating more than $1m in pre-sales including from 100,000 tickets sold via the online distribution platform Tugg.
Produced by Austin-based production outfit Rooster Teeth – the company behind Red vs. Blue, the longest-running web series in history – Lazer Team is directed by Matt Hullum and stars Gavin Free, Burnie Burns and Allie DeBerry.
The film follows four small-town losers who stumble across an alien crash site containing an interstellar battle suit. After a piece of the suit becomes attached to each of them, they must work together to save humanity from further extra-terrestrial threats.
To date, Tugg screenings have taken place in the United States and Australia.
In response to the success of the Tugg screenings, the film expanded in 60 venues across the UK and Ireland through a collaboration between Odeon, Empire, Vue and National Amusements, taking $250k in box office including $100k from Tugg.
In the US, Amplify Releasing programmed the film into select cities using a data-driven approach based on the most successful Tugg screenings.
Tugg allows users to put forward a film they would like to watch, choosing the venue and date. If the request is accepted by a cinema, and enough tickets are sold before the deadline, the screening goes ahead, with the original creator taking 5% of ticket sales.
Lazer Team tops the previous theatrical release record for Tugg, set by documentary Touch the Wall, which sold 47,100 tickets for a total of 371 screenings.
In 2014, the crowdfunding campaign for Lazer Team run on Indiegogo raised over $2.48m from more than 37,000 backers, setting a record for the most crowdfunded film based on original IP in the platform's history.
Rooster Teeth, which boasts over 25 million subscribers across its network of channels, is run by Fullscreen, a global network of content creators and brands on Youtube, and is jointed owned by comms giant AT&T and media investment firm The Chernin Group.
Fullscreen also counts NBCUniversal and FOX amongst its clients and generates more than 7 billion monthly video views across its channels.