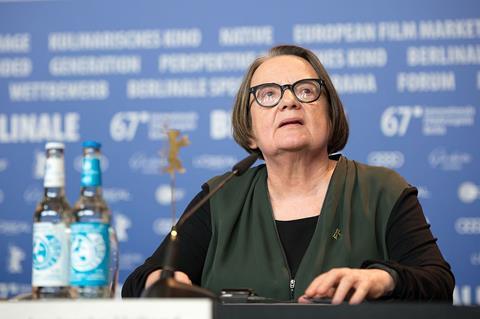 Some 165 leading screenwriters and directors, including Jacques Audiard, Agnieszka Holland, Lone Scherfig, Matteo Garrone, Mike Leigh, Cristian Mungiu, Lázló Nemes, Paolo Sorrentino and Pawel Pawlikowski have signed a petition calling on the European Parliament to adopt the the latest version of the EU Copyright Directive.
The declaration, unveiled at the Venice Film Festival, is backed by the Federation of European Film Directors, The Federation of Screenwriters and the Society of Audiovisual Authors.
The petition reads: "Together, we have been calling on the European institutions to adopt a Directive on Copyright in the Digital Single Market that introduces an unwaivable right to proportionate remuneration for authors, collected directly from the on-demand platforms by the collective management organisations representing us, the authors."
Earlier this summer, the European Parliament rejected a previous version of the directive to the dismay of many in the film community, voting by 318 to 278 votes against the measures with 31 abstentions. A new vote on the directive will be held in the EU Parliament on September 12.
The controversial law is aimed at updating existing legislation to fit the digital age, and has seen intense lobbying campaigns from both sides of the debate, with those who believe digital players are exploiting news and media content without properly remunerating the creators, pitted against opponents of the proposed rules who said it posed a threat to a free and open internet.
At the heart of the criticisms of the new law were two articles: articles 11 and 13. Article 11 was aimed at protecting the content of newspapers and other information sites from unpaid exploitation by tech gianst such as Google and Facebook through the introduction of a "link tax".
Article 13 put greater responsibility on websites to enforce copyright law around the content posted on their platforms by users. Opponents, typically smaller websites, argued only the big platforms had the resources to finance the filter systems required to police user content in this way.
Writers & Directors Worldwide, representing audiovisual creators in 69 countries, also backed the rule changes, saying in a statement: "The EU Copyright Directive is a unique opportunity for change. It lays down important principles that will benefit the interests of audiovisual creators in Europe, advance the cause for fair remuneration, transparency and cultural diversity across the world."
The full list of signatories is here.