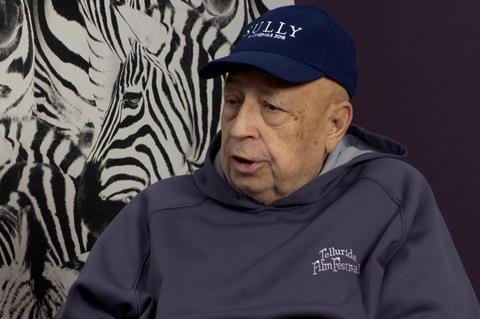 Pierre Rissient, the influential, behind-the-scenes mover, shaker and fixer in the French cinema world and the Cannes Film Festival, has died. He was 81.
French director Bertrand Tavernier, who worked alongside Rissient as a press attaché in the 1960s before turning to directing and was a lifelong friend, broke the news via the Twitter account of the Lumière Institute in Lyon, of which he is president.
"Pierre Rissient died last night," Tavernier wrote. "His wife Yung Hee asks me to let you know and, in thinking of her, it is with infinite sadness that I write this message. Pierre was a great human being and an absolute film buff. We mourn him."
Type multi-hatted Rissient's name into online cinema database IMDb, and barely a dozen credits appear. Behind the scenes, however, Rissient was a legendary figure in the film world at home and internationally, respected for his deep knowledge of cinema, his nose for talented directors, and his ability to promote them and forge connections on their behalf.
The Cannes Film Festival once described him as "a figure who cannot be categorised", while Clint Eastwood, who is one of the many stars and directors whom Rissient nurtured and supported over the years, nicknamed him 'Mister Everywhere.'
"He operates in the shadows, like a secret agent. He is unknown to the public, but is treated like an oracle by curious cinephiles," French cultural magazine Télérama wrote of Rissient in 2015.
Having gotten involved in the cinema world through the vibrant ciné-club scene in Paris in the 1950s and establishing and programming the French capital's Mac Mahon cinema, Rissient tried his hand at directing, notably picking up a credit as assistant director on Jean-Luc Godard's Breathless, and a handful of less famous titles in the early 1960s, before turning to film publicity.
Among the titles he handled as a publicist was Carlos Saura's Peppermint Frappé, the premiere of which was famously abandoned at the ill-fated Cannes Film Festival in May 1968 when Godard helped shut it down as an act of solidarity with the student and worker protests sweeping across France at the time.
Rissient went on to work as a distributor, director, producer talent and project scout, and would often bring his discoveries to the Cannes Film Festival.
He introduced the work, for example, of Australian director Jane Campion to the festival in 1986, bringing then delegate-general Gilles Jacob footage from a trio of her first short films.
Jacob programmed all three works and one of them, An Exercise In Discipline-Peel, clinched the Palme d'Or for best short film that year. It was the beginning of a long, ongoing relationship between the festival and Campion, who would go on to win the Palme d'Or for The Piano in 1993.
Jacob also paid tribute to Rissient, tweeting, "Pierre Rissient was a super-discoverer of filmmakers with a flair, an invaluable curiosity. When he helped someone (Jane Campion) he took them under his wing and helped them to spread their art. He loved and supported the Cannes Film Festival, I write this with emotion and sadness."
Rissient was also a champion of Asian cinema, scouting, for example, King Hu's martial arts classic A Touch Of Zen, which was the first Chinese film to win an award at the Cannes Film Festival, where it picked up the Technical Grand Prize in 1975.
His other Asian discoveries included Edward Yang, Im Kwon-Taek and Hou Hsiao-hsien.
Film critic Todd McCarthy celebrated Rissient's category-defying career in the 2007 bio-doc Man Of Cinema: Pierre Rissient, featuring the late Iranian director Abbas Kiarostami as one of the cinematographers.
In a sign of Rissient's influence and standing in the global cinema community, a number of top directors agreed to be interviewed about his behind-the-scenes work including Oliver Stone, Quentin Tarantino, Werner Herzog and Sydney Pollack.
He was reportedly active up until the end. Collaborators report he gave support and advice to Official Selection titles Burning and Long Day's Journey Into Night prior to his death.
Wild Bunch co-chief Vincent Maraval tweeted, "With the disappearance of Pierre Rissient, I lose a master and a mentor. As late as last week, he helped us on the press kit for the film of Bi Gan, and the editing of Claire Denis' film. He was a servant in the noblest sense, who served as a model for me."