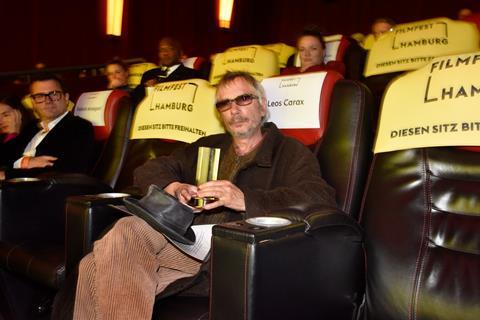 French writer-director Leos Carax was presented with the prestigious Douglas Sirk award ahead of the German premiere of his latest film Annette at the Filmfestt Hamburg on October 2.
He joins the ranks of luminaries including David Cronenberg, Tilda Swinton, Wong Kar-Wai, Jodie Foster, Fatih Akin and Jafar Panahi in receiving the crystal statuette created by the Hamburg designer Georg Plum.
Filmfest director Albert Wiederspiel noted "the award has been handed out to filmmakers at very different stages of their careers, some were really young like Francois Ozon, while some had been around for very long like Wim Wenders or Catherine Deneuve.
"Generally speaking, it has always been our intention to award someone who has played an important role for cinema- tography, for cinematic art or for the cinema industry as such. It was never our intention to turn this into a lifetime achievement award, also because I am not really a fan of lifetime achievement awards as it sounds like an ending. It's not supposed to be an ending."
"In your case, Monsieur Carax, I feel so privileged because I have the feeling that I would have been able to give you the award for this one film only, just for Annette. It is an explosion of cinematic art and, after watching it, I felt I have just seen many, many movies at the same time and each of them would have been an award-winner."
Noting Carax is not fond of travelling, Wiederspiel said it was "an even bigger pleasure" to host the French director in Hamburg. He was accompanied by his German co-producer Fabian Gasmia of Berlin/Hamburg-based DETAiLFILM and distributor Fabien Arseguel of Alamode Film.
Alamode and Wild Bunch Germany will open Annette in German cinemas on December 16.
The Filmfest Hamburg runs until October 9.