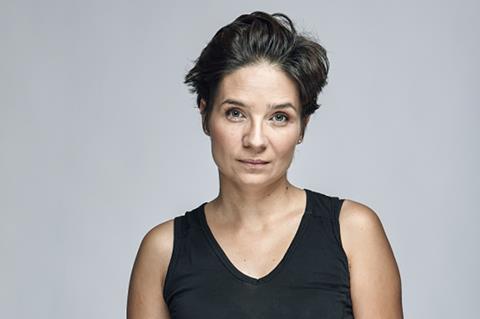 Jonas Alexander Arnby, Ágnes Kocsis and Poland's Agnieszka Smoczyńska will be among the directors presenting new projects at Les Arc Film Festival's Co-production Village, running Dec 15 to 17.
Hungarian filmmaker Kocsis will attend with romantic drama Iron Song, about the real-life love story between Latvian composer Imants Kalniņš and US writer Kelly Cherry in the 1960s.
Polish director Agnieszka Smoczyńska will present her first English-language project Silent Twins, about siblings who communicate using a private language of their own creation after spending 14 years in Broadmoor high-security psychiatric hospital.
Denmark's Arnby, whose latest feature Suicide Tourist is due to go on release in his native Denmark this month, will unveil a new project entitled In The Eyes Of God.
UK director Sean Robert Dunn will also attend with his debut feature Man Accidentally Kills. It follows a trio of well-received shorts including Kingdom Come which debuted in Venice's Orizzonti section this year.
The festival said seven of the projects were directed by women, 13 by men and two were jointly directed by a female-male team. It added that this meant 36% of the projects were directed by women, while 35% of the 263 submitted projects had been by women.
Further breaking the selection down, the festival said 12 of the projects were first features, four were second features and six were by more established filmmakers.
All 22 projects will be in the running for the €4,000 ($4,453) Artekino prize.
Other industry events
The festival also released details of its other industry focused events, running Dec 14-18.
The Work In Progress section – which has previously showcased features such as Rungano Nyoni's I Am Not A Witch and Nora Fingscheidt's System Crasher – will run over two days this year. The list of participants will be released in the coming days.
The industry programme will also host the second edition of the Talent Village putting the spotlight on eight emerging filmmakers.
The group undergo a workshop at the CinéFabrique film school in Lyon before attending Les Arc to network with industry professionals. A highlight of the CinéFabrique will be a masterclass by Laszlo Nemes. Isabelle Huppert is participating in the Talent Village as its guest of honour and mentor.
The eight participants are Sven Bresser (the Netherlands), Dana Lerer (Israel), Lauri-Matti Parppei (Finland), Thessa Meijer (the Netherlands) – Anthony Nti (Belgium), Anna Roller (Germany), Süheyla Schwenk (Turkey) and Erlendur Sveinsson (Iceland).
Distribution Summit
French distributors will also hold their annual summit (Dec 17-21) at which they unveil their upcoming line-ups and also discuss key issues currently impacting their business.
Films due to be showcased at the meeting include System Crasher (Ad Vitam), Vivarium (The Jokers Films) and Jumbo (Rezo Films)
The full-list of Coproduction Village projects:
Barbarian
Dir. Juris Kursietis (Latvia)
Prod. White Picture (Latvia)

Before We Collapse
Dir. Alice Zeniter and Benoit Seguin (France)
Prod. Elzevir Films (France)

Dark Paradise
Dir. Triin Ruumet (Estonia)
Prod. Three Brothers (Estonia)
Empire Of The Rabbits
Dir. Seyfettin Tokamak (Turkey)
Prod. Yaman Film & Zkf (Turkey)
Entreprenör
Dir. Vahlne Simon (Sweden)
Prod. Plattform Produktion Ab (Sweden), Deuxième Ligne (France)
Flash In The Pan
Dir. Loïc Barché (France)
Prod. Punchline Cinéma (France)
Ghostdance
Dir. Nicolas Blies (France), Stephane Hueber-Blies (France), Kim O'bomsawin (Canada)
Prod. A_Bahn (Luxemburg), Mélusine Productions (Luxemburg), Terre Innue (Canada)
I Am Here But You Can't See Me
Dir. Feyrouz Serhal (Lebanon)
Prod par Zeitun Films (Spain), Roummana (Lebanon)
In The Eyes Of God
Dir. Jonas Alexander Arnby (Denmark)
Prod. Profile Pictures (Danmark)
Iron Song
Dir. Ágnes Kocsis (Hungary)
Prod. Juris Podnieks Studio (Latvia)
Josefina
Dir. Javier Marco (Spain)
Prod. White Leaf Producciones (Spain), Achtung Panda! (Germany)

Kaspervizija
Dir. Karolis Kaupinis (Lithuania)
Prod. M-Films (Lituanie)
La Edad Desnuda
Dir. Valentina Maurel (Costa Rica)
Prod. Geko Films (France), Wrong Men (Belgique)
Leave Me (working title)
Dir. Maxime Rappaz (Switzerland)
Prod. Goldeneggproduction (Switzerland)
Man Accidentally Kills
Dir. Sean Robert Dunn (UK)
Prod. Ossian Pictures (UK)
Rabia
Dir. Mareike Engelhardt (Germany)
Prod. Films Grand Huit (France)
Silent Twins
Dir. Agnieszka Smoczyńska (Poland)
Prod. Madants Sp. Z O.o. (Poland)
Sluga
Dir. Marian Crisan (Romania)
Prod. Rova Film (Roumanie)
Tales Of The Hedgehog
Dir. Alain Gagnol, Jean-Loup Felicioli (France)
Prod. parmi les lucioles films (france)
The Grand Piano Room
Dir. Laura Tamošiūnaitė Šakalienė (Lithuania)
Prod. Ketvirta Versij (Lithuania)
The Invisible Fight
Dir. Rainer Sarnet (Estonia)
Prod. Homeless Bob Production (Estonia)
Windless
Dir. Pavel G. Vesnakov (Bulgaria)
Prod. Red Carpet (Bulgaria)