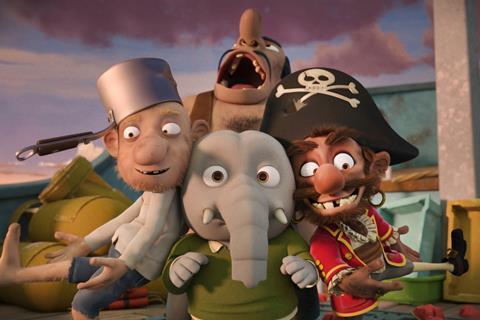 LevelK has now sold animation The Incredible Story of The Giant Pear to more than 100 countries.
Recent deals include to China and Hong Kong (Bravos Pictures), Vietnam (Green Media), South East Asia (Astro), Spain and Andorra (Pack Magic), and Russia/CIS (NDPlay/Kinologistika).
Directed by Philip Einstein Lipski, Amalie Næsby Fick and Jørgen Lerdam, the family animation follows an elephant and a cat who set out on a great adventure to help save their village's mayor.
Thomas Heinesen and Trine Heidegaard produce for Nordisk Film Production. The script is written by Bo Hr. Hansen based on the Danish children's book by Jakob Martin Strid. Backers are The Danish Film Institute, NFTVF, The Danish Broadcasting Corporation and MEDIA.
The film has had more than 163,000 admissions in two weeks in Denmark.
Previous deals include to France and Benelux (Ninety-Seven Film Production), Korea (Yejilim Entertainment), Hungary and Romania (ADS Service), Poland (Vivarto), Middle East (Empire Networks), Estonia (Estin Film), Bulgaria (Pro Films), Croatia and Slovenia (Radar), and Iran (Century 21).
Derek Lui, President of Sales at LevelK, said, "Not only does The Incredible Story of The Giant Pear sell really well in Europe, it has also sold extremely well in Asia. Many distributors already came on board during pre-sales, and now that the animation is completed, more territories continue to board this incredible journey of the giant pear. The film is full of adventure, humour and visual beauty that transcends boundaries and can be relatable for family audiences across the globe. It has been a wonderful journey working on this title, and we look forward to seeing it in cinemas worldwide."