Li Ruigang has quit his post as group president of China's second-largest media conglomerate, Shanghai Media Group (SMG), but will stay on as chairman.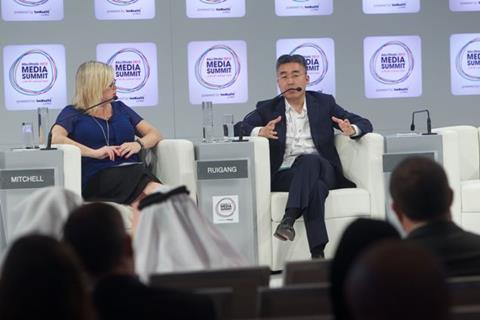 While no reason was given for the departure of Li (pictured with Screen's Wendy Mitchell), he is also chairman of government-backed China Media Capital (CMC), leading local press to speculate that he wants to spend more time on the investment fund.

CMC has investments in companies including IMAX China and Star China TV, which owns the Fortune Star film library and three Star China TV channels previously owned by News Corp.

CMC is also a partner in DreamWorks Animation's China joint venture Oriental DreamWorks. The two partners are currently building a $2.4bn entertainment complex in Shanghai.

SMG has a partnership with Disney that covers film co-production, TV content development, distribution and marketing initiatives.

The government-backed conglomerate has recently undergone a major restructuring following China president Xi Jinping's calls for the creation of giant, digitally-focused media companies in China.

At the end of last year, two SMG subsidiaries - internet company BesTV and broadcaster Shanghai Oriental Pearl - were merged to form what SMG claimed would be China's largest online media conglomerate.

Wang Jianjun, an SMG managing director and former deputy director of the Shanghai Information Office, will replace Li as SMG president.