Lia van Leer, the legendary first lady of Israeli cinema, has passed away in Jerusalem aged 90.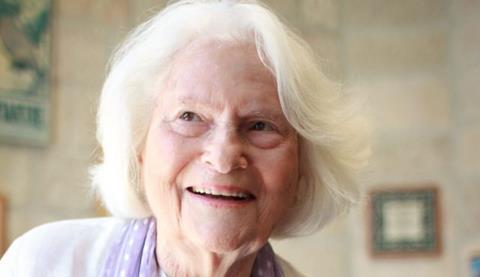 The indefatigable founder of the Haifa and Jerusalem Cinematheques, also of the Israeli Film Archive and the Jerusalem Film Festival, van Leer, born in Balti (Romania when she was born in 1924, today in the Republic of Moldova), was sent by her parents to Palestine in 1940, to join her sister. She never saw her parents again, both murdered by the Nazis after she left.
Van Leer studied at the Hebrew University in Jerusalem, where she met and married in 1952 Wim van Leer, an engineer, pilot, playwright, film producer and the scion of a celebrated Dutch family.
The couple settled in Haifa, using their private 16mm collection to start a film club, which later developed into the Haifa Cinematheque and the Israeli Film Archive.
After 1967, once Jerusalem was reunited under Israeli rule, van Leer moved there taking the Film Archive along to establish the Jerusalem Cinematheque, located in the HInnom Valley, facing the walls of the Old City, a unique location that no other film institution in the world can boast.
The new Cinematheque, built with the help of substantial donations by Brazilian businessman George Ostrovsky and supported by the late Jerusalem mayor Teddy Kollek, was inaugurated in 1981, and three years later, became the home of the Jerusalem Film Festival, with van Leer fully in charge of all three operations (Cinematheque, Archive and Festival) until 2007 when, well into her eighties, she moved to a honorary position, as chairperson of all these institutions.
A globetrotter - who attended the Berlinale in February and had friends all over the world - she rarely missed any significant film event, her presence noticeable at all hours of day and night, as she was energetically raising funds, collecting films and inviting guests for her summer event, which soon gained the reputation of being one of the best hosted festivals around.
Highly praised for her selfless dedication to every aspect of cinema culture, her contribution has been instrumental in molding the new generation of Israeli filmmakers and film audiences, significantly expanding and enriching the diet of commercial films to which they had been previously exposed.
She served on both Cannes and Berlin juries and was awarded the Israel Prize (the most prestigious accolade in the country) for her work.
Her act will be a hard one to follow and the end of an era, as Noa Regev, who inherited van Leer's position last year, would be the first to agree.
In a statement released Saturday morning, Regev said: "Lia worked with love for cinema and for her fellow man, for the sake of cinema culture in Jerusalem, in Israel, and for the international community.
"I will miss her dearly, as well as the immense amount of hope and inspiration that she gave me in my life."