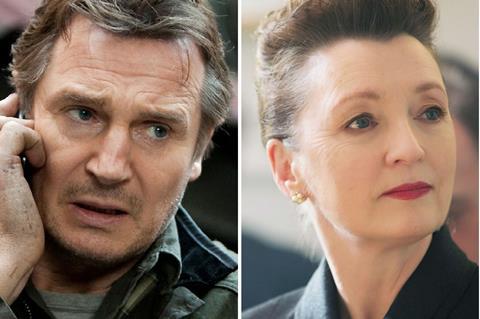 Bleecker Street has acquired US rights from Bankside Films to Lisa Barros D'Sa and Glenn Leyburn's drama Normal People starring Lesley Manville and Liam Neeson.
The third feature from the directing duo behind Good Vibrations and Cherrybomb centres on an everyday couple who must summon their strength and call on their extraordinary love to navigate a year of adversity.
Owen McCafferty wrote the screenplay, and producers are Brian J. Falconer, David Holmes and Piers Tempest. Natascha Wharton served as executive producer for the BFI, alongside Stephen Kelliher for Bankside Films, Jo Bamford for Tempo Productions, Phil Hunt and Compton Ross for Head Gear Films/Metrol Technology,and Mark Huffam.
Normal People is a Canderblinks Films and Out of Orbit production, and is financed by the British Film Institute using National Lottery funds and Northern Ireland Screen in association with Head Gear Films, Metrol Technology and Kreo Films.
The film shot on location in Northern Ireland and is currently in post-production. Bleecker Street will distribute theatrically in 2019.
"This is such a beautiful story of love and commitment as portrayed between two of the world's most talented actors," said Bleecker Street CEO Andrew Karpen. "It's magical to watch as they find strength and an ever-deepening connection."
D'Sa and Leyburn added, "Normal People has been a labour of love for our incredible cast and creative team. We're thrilled now to partner with Bleecker Street, who have such a strong history in distributing compelling, thought-provoking films. We look forward to an exciting journey with Andrew and the team."
Kent Sanderson and Camille Bertrand negotiated the deal on behalf of Bleecker Street with CAA Media Finance and Bankside Films for the filmmakers.
Bleecker Street's recent releases include awards season contenders Colette starring Keira Knightley, and Debra Granik's Leave No Trace starring Thomasin McKenzie and Ben Foster.
Bankside Films handled sales on TIFF selection Papi Chulo and In Fabric. In post are Adam Randall's thriller I See You starring Helen Hunt, Eternal Beauty starring Sally Hawkins, and How To Fake A War directed by Rudolph Herzog starring Katherine Parkinson, Lily Newmark and Jay Pharaoh.