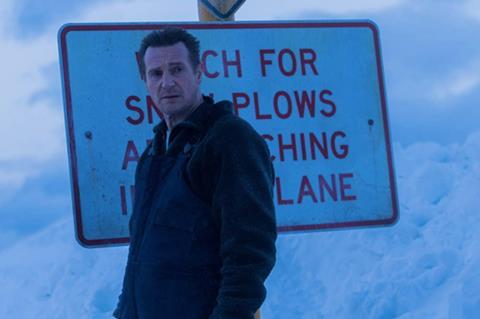 Liam Neeson will portray hardboiled detective Philip Marlowe in Neil Jordan's Marlowe based on a screenplay by William Monahan, with Storyboard Media handling sales at the upcoming virtual Cannes market.
Storyboard Media, H2L Media, Nickel City Pictures and Parallel Film Productions are producing and have lined up an October start on production, which will take place in Los Angeles and Europe.
Monahan, whose credits include The Departed and George Clooney's upcoming The Tender Bar, has adapted the screenplay from the novel The Black-Eyed Blonde by Benjamin Black, the pseudonym of John Banville who received the blessing of the Raymond Chandler estate to revive the celebrated literary creation.
In Marlowe's latest case, he is hired to find the former lover of a glamorous heiress. What looks like an open and shut case turns out to be anything but as Marlowe finds himself in the underbelly of Hollywood's film industry and in the crosshairs of a legendary Hollywood actress and her subversive, ambitious daughter.
The producers are Alan Moloney of Parallel, Gary Levinsohn of H2L Media, Mark Fasano of Nickel City, and Billy Hines of H2L Media, along with Storyboard's Patrick Hibler and Philip Kim.
Storyboard's Elisabeth Costa de Beauregard and Patrick Muldoon serve as executive producers alongside Jeff Rice, Steven Sims of H2L Media, Harris Tulchin, Tobias Weymar, and Christopher Hines.
Neeson (Taken series, The Grey, upcoming The Ice Road) collaborated with Monahan on Kingdom Of Heaven, and with Jordan (The Crying Game, Interview With The Vampire) on Michael Collins and Breakfast On Pluto. Marlowe marks the first project to feature all three.
Neeson is represented by CAA and ARG, Jordan by Casarotto Ramsey and CAA, Monahan by LBI and CAA, and The Raymond Chandler Estate by The Agency and RCW.
Storyboard Media's Kim and Hibler and Costa de Beauregard and Muldoon are represented by Tulchin of Harris Tulchin & Associates.