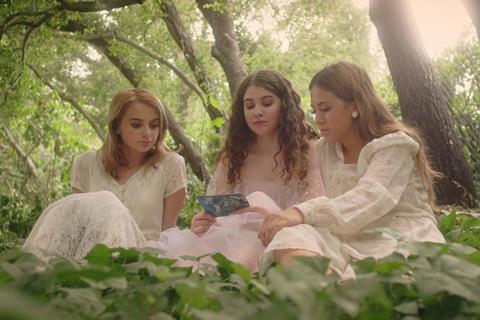 New York-based Factory 25 has acquired worldwide rights to Tyler Taormina's Locarno Film Festival selection and coming-of-age comedy Ham On Rye.
Taormina's feature directorial debut explores a suburban community where the fate of teenagers' lives hinges on a bizarre ritual that takes place in the local deli. The film received its international premiere in Locarno on Aug. 10.
Haley Bodell, Cole Devine, Audrey Boos, Gabriella Herrera, and Adam Torres lead an ensemble of more than 100 performers, including non-actors, musicians, and Nickelodeon child stars from the 1990s.
Taormina wrote the screenplay to Ham On Rye with Eric Berger. Kevin Anton, Michael Basta, Eric Berger, David Croley Broyles, David Entin, Carson Lund, Taormina, and Sergio Uguet de Resayre served as producers.
"I'm fascinated by how previous generations' traditions weigh on us and how helpless we are in the face of ceremony's potential injustices," Taormina told the Locarno Film Festival website. "I like films that focus on ecosystems; Monsieur Hulot's Holiday changed my life. When I imagined the teens at Monty's Delicatessen, I dreamt of how a variety of individuals would meet the ceremony. It's incredible how standardized our culture is in a world full of disparity."
Asked about the teen movie genre in general, the filmmaker had this to say: "In the US you can go 30 years without watching a John Hughes era classic and still know exactly how they operate. They're ingrained in us. We didn't watch any to prepare, hoping they would blend together in memory to provide a catch-all feeling. We did use aesthetic references like American Graffiti (1973) and Dazed and Confused (1993), two films that reside forever in my heart. Still, the dissonance in comparing my actual and cinematic experiences was important: my film parades on as if life were just like a John Hughes film until the realization hits that nobody gets to have that life."
The comedy from Tago Clearing Film Studio and Omnes Films received its international premiere in Locarno, following the world premiere at Santa Barbara International Film Festival. It has gone on to screen at Maryland Film Festival, Sydney Underground Film Festival, and Sarasota Film Festival, among others.
Factory 25 brokered the deal with the producers and will release the film theatrically in early 2020 followed by digital roll-out later in the year. The company's release credits include Werewolf, Little Feet, Light In The Sky, The Oregonian, and The Other Side Of Sleep.