I Am Not a Witch and The Train of Salt and Sugar both pick up two prizes each at the Locarno Film Festival's co-production lab.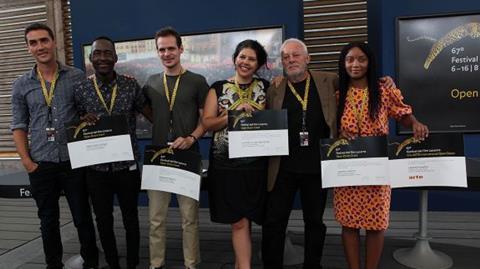 Grants have been awarded today at the Locarno Film Festival's Open Doors Co-production Lab (Aug 9-12), this year dedicated mainly to the English and Portuguese-speaking countries of Sub-Saharan Africa.
The winner of the Open Doors Grant of CHF20,000 ($22,000) was I Am Not a Witch, the debut feature of writer-director Rungano Nyoni, from Zambian production company Icreatefilms co-produced with France's Clandestine Films.
The drama, told from the point of view of a nine-year-old girl at a 'witch refugee camp' in Zambia, also won the Prix ARTE International prize of €6,000 ($8,000).
"I wanted to tell a story around a talented child who is ostracised and whose talent isn't fully realised," Nyoni told Screen of the project's origins.
"It coincided with a separate story I was looking into about witch camps. They both involved characters being rejected by society and living on the fringes."
Nyoni was selected to develop the script at Cannes' Cinefondation, and has received backing from Rotterdam's Hubert Bals Fund and support from the BFI's Net.work programme. Her 2011 short, Mwansa The Great, won some 20 prizes and was nominated for a BAFTA. Most recently, short Listen screened in Directors' Fortnight at Cannes in May.
The second winner of an Open Doors Grant of CHF20,000 ($22,000) was The Train of Salt and Sugar by Licinio De Azevedo, which also picked up the Prix CNC prize of €7,000 ($9,350).
The film is being produced through Portugal's Ukbar Filmes - a co-producer on de Azevedo's 2012 feature Virgin Margarida, which premiered at Toronto and was shown in 20 countries - together with Mozambique production company Ebano.
The Train Of Salt And Sugar is set in Mozambique in the middle of the civil war, which began in 1977. Its protagonists are passengers onboard a train that provides a lifeline to families and communities whose everyday existence is blighted by the conflict.
"During the Mozambique civil war, I heard the train's story, its passengers and its crazy journey. At the time I wanted to make a documentary about it, but I couldn't find a way," said de Azevedo, a Brazilian former journalist who came to Mozambique in 1977 and whose credits include 2007 documentary Night Lodgers
"When the war was over I did some research, travelled on that train and interviewed railways workers to write a fictional story for a book I published in 1997." The story has now metamorphosed into a film.
The aim is to shoot in Mozambique, which de Azevedo described as "a totally welcoming country to film production, in every sense".
An additional Open Doors Grant of CHF10,000 went to Faraway Friends by Teboho Edkins.
The 70-minute documentary centres on four teenagers growing up in a small village in the mountains of Lesotho. Like teenagers all over the world, their lives revolve around friendships, families, church and school. But they must also contend with the specific challenges of life in rural Africa.
"Everybody says the hope of the African continent rests on its favourable demographics, on the shoulders of the young people. I wanted to understand what this means," Edkins told Screen.
"This, coupled with growing up in Lesotho myself and always having wanted to make a film in the high mountains, meant the idea came about very organically."
The film-maker got to know the village of Ha Sekake with the help of STEPS, a non-profit production and distribution company based in Cape Town. It works throughout the region on documentary films with themes of social justice.
Returning seven times over several years to take in the different seasons, Edkins realised he could use a different documentary technique with each of his protagonists.
"With the boys it is a more classical observational documentary style, while with the girls it's more playful documentary film-making, where one feels the director's mise-en-scene strongly," he added.
A special mention went to Territorial Pissings, from South African director Sibs Shongwe-La Mer.
In the film, set on the anniversary of the violent Soweto youth uprising of June 16, 1976, a group of adolescent friends in Johannesburg are shocked by the live-streamed suicide of a young girl in her parents' family home.
Much of Territorial Pissings has already been shot, with some of its footage being shown at Venice Film Festival last year as a work in progress.
The film is produced by Elias Ribeiro of Urucu Media, who was introduced to Shongwe-La Mer through a mutual friend following Venice.
Asked about the inspiration for his debut feature, Shongwe-La Mer said: "[It was] growing up in the sleepy suburbs of Johannesburg and watching the 'blessed' generation of middle class, free South Africans I was born into turn from the postcard-prophesied golden children of the nation into coke fiends, dropouts and emotional cripples."
The 12 projects that participated in the Open Doors Co-production Lab 2014 were selected from more than 190 submissions and the aim was to bring the projects' directors and producers together with potential partners, to encourage support for these projects to come to fruition.
The awards were offered by the Swiss Agency for Development and Cooperation (SDC) of the Federal Department of Foreign Affairs, the municipality of Bellinzona, Visions Sud Est, ARTE and the CNC (Centre national du cinéma et de l'image animée).
The Open Doors Screenings programme continues until the end of the festival (Aug 6-16), presenting a selection of 26 films from Angola, Ethiopia, Ghana, Kenya, Mozambique, Nigeria, South Africa, Sudan and Tanzania. The screenings are open to industry professionals as well as the Festival audience.
The Co-production Lab was organized in collaboration with the Festival's Industry Office and support from partners ACE (Ateliers du Cinéma Européen), EAVE (European Audiovisual Entrepreneurs), Producers Network Marché du Film (Festival de Cannes) and the TorinoFilmLab.