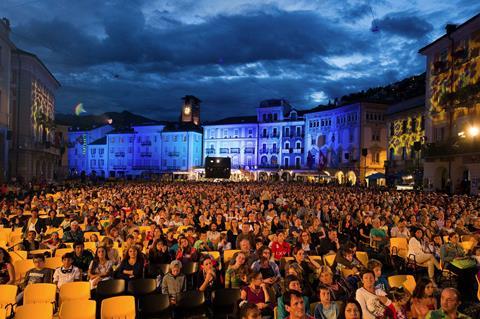 Locarno's Open Doors programme, aimed at supporting independent cinema in the Global South and East, has unveiled its screening selections for this year's hybrid edition of its parent event.
Locarno was forced to cancel in April due to the Covid-19 pandemic. It will instead unfold mainly online under the banner of 'Locarno 2020 – For the Future of Films', with a compact programme of physical theatrical screenings in situ during its original dates of August 5 to 15.
Open Doors, which is in the second-year of a three-year cycle devoted to the cinema of Southeast Asian and Mongolia, has created two separate line-ups, one for online, the other to screen physically in Locarno.
The online selection – comprising 10 features and 10 shorts - will focus on films from Indonesia, the Philippines, Malaysia and Myanmar as part of its ongoing territory focus. Some of the screenings will be accompanied by conversations with the directors. The whole Open Doors programme - which includes a co-production platform and a lab for emerging producers - takes place online this year.
"We picked out a number of full-length features that have had a very positive response on the festival circuit, but which have been hard to see because of a lack of distribution outside their original territories," said Paolo Bertolin, curator of the Open Doors Screenings.
He cited the inclusion of second films by rising Indonesian director Mouly Surya and buzzy Filipina filmmaker Isabel Sandoval - What They Don't Talk About When They Talk About Love and Apparition – as examples of such films.
The line-up also includes Filipino director Brillante Mendoza's debut feature The Masseur, which won the Golden Leopard in the video competition in 2005. Its inclusion is also intended as a retrospective tribute to the centenary of cinema in the Philippines this year.
"That striking debut in Locarno ushered in a bold new wave of digital cinema from the Philippines and the whole of South-East Asia," said Bertolin.
Similarly, Open Doors is also marking 100 years of cinema in Myanmar with Maung Wunna's 1973 work Tender Are The Feet.
"This programme showcases the region's impressive inter-generational dynamism, presenting on the one hand the work of young talents, especially in the field of the short film in a variety of forms, and on the other a range of full-length features awaiting rediscovery, made by directors who over the years have established themselves on the international circuit," explained Open Doors chief Sophie Bourdon.
A separate selection called 'Through the Open Doors' will give a snapshot of the programme's work in its past 17 editions, which touched down in Africa, Asia, Latin America and the Caucasus. They will screen theatrically in Locarno.
The selection of 10 features were either presented to audiences in Locarno or former projects supported by the Open Doors industry programme.
It includes the Swiss premiere of Made In Bangladesh, which attended the Open Doors co-production platform in 2017, during the previous three-year focus on South Asia.
Further titles include Golden Leopard winner Winter Vacation by Chinese director Li Hongqi as well as Yeleen by Mali's Souleymane Cissé and Teza by Ethiopian director Haile Gerima, which won awards at Cannes and at Venice respectively.
Open Doors 2020 online selection:
Apparition (Phil-US)
Dir: Isabel Sandoval
Atambua 39°C (Indo)
Dir: Riri Riza
Clash (Engkwentro) (Phil)
Dir: Pepe Diokno
Memories Of My Body (Indo)
Dir: Garin Nugroho
Sell Out! (Malaysia)
Dir: Yeo Joon Han
Six Degrees of Separation From Lilia Cuntapay (Phil)
Dir: Antoinette Jadaone
Songlap (Mal)
Dirs: Effendee Mazlan, Fariza Azlina Isahak
Tender Are The Feet (Myanmar)
Dir: Maung Wunna
The Masseur (Masahista) (Phil)
Dir: Brillante Mendoza
What They Don't Talk About When They Talk About Love (Ind)
Dir: Mouly Surya
Through the Open Doors selection:
Made In Bangladesh (Fr-Bang-Den-Port)
Dir: Rubaiyat Hossain
Necktie Youth (S Afr-Neth)
Dir: Sibs Shongwe-La Mer
Keep Smiling (Gaigimet) (Geor-Fr-Lux)
Dir: Rusudan Chkonia
On The Edge (Sur La Planche) (Mor-Fr-Ger)
Dir: Leila Kilani
Winter Vacation (Han Jia) (China)
Dir: Li Hongqi
Teza (Ethiopa-Ger-Fr)
Dir: Haile Gerima
Madeinusa (Peru-Sp)
Dir: Claudia Llosa
I Am The One Who Brings Flowers to Her Grave (Ana alati tahmol azouhour ila qabriha) (Syr-Fr)
Dir: Hala Alabdalla
Kairat (Kaz)
Dir: Darezhan Omirbaev
Yeelen (Brightness) (Mali-Burkina Faso-Fr)
Dir: Souleymane Cissé