CHINA BOX OFFICE: Lost in Hong Kong surged past $200m during the lucrative National Day week.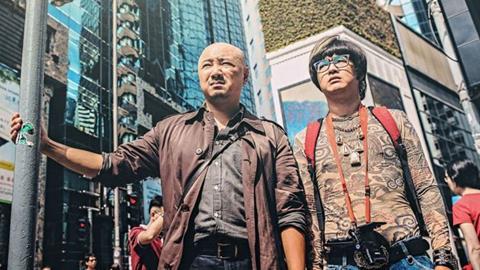 Xu Zheng's madcap adventure held on to the top berth for the second week with $101.75m and climbed to $208.92m after 10 days. It has now overtaken Lost in Thailand to become the second highest grossing local film (after Monster Hunt) and the seventh highest grossing film overall in China.
In second place was Chronicles Of The Ghostly Tribe which opened with $66.05m for a cume of $69.20m after five days. Billed as the first mainstream film from The City of Life And Death director Lu Chuan, it has already become his biggest film at the box office. The effects-laden sci-fi film stars Mark Chao from Taiwan and Yao Chen in an exploration story based on bestselling novel Ghost Blows Out The Light.
In third place was Goodbye Mr Loser which took $40.30m for $41.98m after five days. Without any A-list actors or mega budget, the local comedy has emerged as a dark horse from the National Day holidays. On Sunday, October 4, it even edged out Lost in Hong Kong to top the daily box office. The story about a loser who travels back in time to live his life differently is adapted from a popular theatre play by Happy Mahua which is also the producer of the new film.
Saving Mr Wu came in fourth with $12.87m for $14.96m after five days. Although director Ding Sheng has established himself as an action director through Little Big Soldier and Police Story 2013, the box office so far has indicated the audience's preference for comedies and adventures over a serious kidnapping thriller during this National Day week.
Two more new local titles made the weekly chart, including Balala The Fairies – Princess Camellia which opened in seventh place with $3.09m for $3.13m after four days. The live action film about magical girls is the third instalment of a franchise originated from a popular TV series. The latest film marks the acting debut of Dai Meng and Zhao Yue, both of them from idol group SNH48, a sister group of Japan's AKB48.
The other new release was Tale From The Orient which opened in ninth place with $0.50m after four days. The local animation is co-directed by famous Taiwanese cartoonist Tsai Chih Chung who is best known for popularizing Chinese classics through cartoon graphics.
Hollywood holdovers Minions and Mission: Impossible – Rogue Nation dropped to fifth with $6.19m for $65.58m after 22 days and sixth with $3.33m for $135.29m after 27 days respectively. Chinese-Korean co-production The Third Way of Love dropped to eighth place with $3.08m for $10.64 after 10 days, while Hong Kong-Korean-Thai ominibus thriller The Mirror 3D rounded up the chart with $0.45m for $1.34m after 10 days.
While the National Day week have been dominated by local titles, Disney-Pixar's animation hit Inside Out opens today to catch the tail end of the holidays which end tomorrow officially.