Silent short Too Much Johnson features Joseph Cotton and Orson Welles.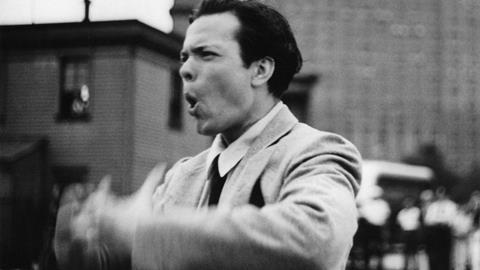 A 1938 Orson Welles film has been discovered in a warehouse in Italy.
Silent film Too Much Johnson, starring Joseph Cotten in the lead role, was found in a warehouse by the staff of Cinemazero, an art house in Pordenone, Italy.
The silent film was originally intended to be used in conjunction with Welles' stage adaptation of an 1894 play by William Gillette. The Mercury Theatre planned to show the three short films as prologues to each act of the play.
The nitrate print of the film - left unfinished by the Mercury Theatre and never shown in public - was given by Cinemazero to one of Italy's major film archives, the Cineteca del Friuli in nearby Gemona, and transferred from there to George Eastman House in order to be preserved.
According to published sources, until now the only known print of Too Much Johnson had burnt in a fire that destroyed Welles' home in the outskirts of Madrid in 1970.
The film's supporting cast includes Eustace Wyatt, Edgar Barrier, Ruth Ford, Arlene Francis, Mary Wickes, Welles and his wife Virginia Nicholson. It was made three years before Welles' epic Citizen Kane.
"This is by far the most important film restoration by George Eastman House in a very long time," said Paolo Cherchi Usai, senior curator of film, who supervised the project for George Eastman House.
"Holding in one's hands the very same print that had been personally edited by Orson Welles 75 years ago provokes an emotion that's just impossible to describe."
The film will get its US premiere at the George Eastman House on October 16.