Universal's action sci-fi scores excellent $5.1m (£3.1m) bow to dethrone The Inbetweeners 2.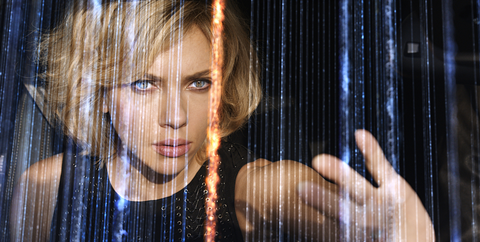 The UK and Ireland love(s) Lucy.
Universal's action sci-fi debuted top of the UK box office with a superb $5.1m (£3.08m) bow at a site average of $10,534 (£6,353). That marks director Luc Besson's best-ever UK opening and the distributor's fourth number one opening of 2014.
As of Bank Holiday Monday [Aug 25], Lucy stands at $6.9m (£4.17m) and generally strong reviews and word-of-mouth should see it shoot past £10m at least.
Also for Universal, Secret Cinema's production of Back to the Future added $862,000 (£520,000) for $4.7m (£2.81m) so far, while Boyhood has reached $4.4m (£2.66m) after seven weeks in play.
ENTERTAINMENT
Despite being prevented from a third week at the top of the chart, The Inbetweeners 2 still enjoyed a prosperous Bank Holiday weekend as it grossed a further $5.3m (£3.2m) over Fri-Mon.
Entertainment's comedy sequel is now up to a strong $47.2m (£28.5m) and will shortly become only the third 2014 release in the UK to cross the £30m mark, following The Lego Movie and Dawn of the Planet of the Apes. If it continues to hold well, it could even challenge The Lego Movie's position as the year's highest grosser with $56.8m (£34.3m).
DISNEY
Guardians of the Galaxy is now the third highest grossing Marvel Studios outing in the UK, behind Avengers Assemble and Iron Man 3.
Disney's latest Marvel release added $2.1m (£1.3m) in its fourth weekend and has climbed to $37.4m (£22.5m) as of Monday, lifting it above Iron Man 2's $35.2m (£21.2m) UK result.
It won't catch Iron Man 3's $60.6m (£36.5m), but it's a terrific result for a film that was a tricky sell without pre-established characters.
Also for Disney, Planes 2: Fire & Rescue stands at $5.8m (£3.5m) following a $510,000 (£307,541) third weekend of nationwide release.
WARNER BROS
Whipping up $1.9m (£1.12m) on its UK bow, including $716,000 (£432,000) in previews, from its 432 sites was Warner Bros' Into the Storm.
As of yesterday, the disaster thriller has grossed $2.4m (£1.45m) in its attempt to chase down Final Destination 5's $8.9m (£5.4m) tally to become director Steven Quale's best-ever UK performer.
Also for Warner Bros, The Nut Job has amassed $5.6m (£3.35m) after four weeks in play.
SONY
Possessing 302 sites through Sony, Deliver Us from Evil scared up $1m (£630,000) on its UK debut, including $368,000 (£222,000) in previews.
That marks the lowest ever UK opening for director Scott Derrickson, some way behind his previous lowest, The Exorcism of Emily Rose's $2.2m (£1.3m) from 359 sites.
EONE
Rom-com What If got off to a soft start in the UK through eOne, opening with $984,000 (£593,735) from its 376 sites, including $426,000 (£256,819) in previews. That's down on the $1.2m (£728,286) debut from 358 sites of director Michael Dowse's best-ever opening, Goon.
Also for eOne, The Rover stands at $244,000 (£147,000) after ten days in play and won't catch Animal Kingdom's $807,000 (£487,000) UK tally, while Earth to Echo has amassed $4.3m (£2.6m).
FOX
Falling a very respectable 37% in its sixth weekend was Fox's Dawn of the Planet of the Apes as it swung to an additional $983,000 (£592,551) for an excellent $51.9m (£31.3m) as of Monday.
Also for Fox, How to Train Your Dragon 2 has soared to $37.7m (£22.7m) in the UK after it dropped just 32% in its ninth weekend for $729,000 (£439,693).
LIONSGATE
Dropping around 60% in its second weekend (excluding previews), The Expendables 3 shot its way to a further $850,000 (£512,611) for $5.2m (£3.1m) as of Sunday [Aug 24]. Barring a late surge, it's likely to end up as the lowest grosser of the trilogy in the UK, currently The Expendables 2's $9.9m (£6m).
Also for Lionsgate, Sin City: A Dame to Kill For opened in two West End sites for a Fri-Sun tally of $20,000 (£12,117). It started its nationwide previews yesterday [Aug 25], taking $370,000 (£223,480), and opens officially this Friday [Aug 29].
ARTIFICIAL EYE
Two Days, One Night posted a UK debut of $274,000 (£165,278), including $9,500 (£5,738) in previews, from its 54 sites through Artificial Eye.
That marks the Dardenne brothers' best-ever UK bow and with the film up to $408,000 (£246,387) as of Monday, it's sure to become the duo's best-ever UK performer too, topping A Kid With a Bike's $567,000 (£342,000).
METRODOME
God Help the Girl recorded a UK bow of $202,000 (£121,834) from its 11 sites through Metrodome, the bulk of which came from last Saturday's [Aug 16] preview with live satellite content.
VERTIGO FILMS
Argentinian animation The Unbeatables dropped over 50% in its second weekend, taking $126,000 (£75,715) for $948,000 (£571,365) to date through Vertigo Films.
PARAMOUNT
Hercules has now sliced its way to $8.9m (£5.4m) after five weeks in play.
UPCOMING RELEASES
This week sees saturation releases for Fox's Let's Be Cops (opens Aug 27), Universal's As Above, So Below and Warner Bros' If I Stay.
Soda Pictures' Night Moves, eOne's The Grand Seduction and Disney's Million Dollar Arm all receive wide releases, while Koch Media's Obvious Child and Metrodome's The Guvnors are among the films receiving a limited release.