Director plans to add in more Jonny Greenwood music to her award-winning Cannes title.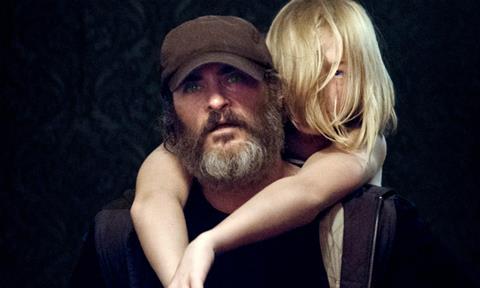 Lynne Ramsay said that the version of You Were Never Really Here that won two prizes at the Cannes Film Festival is incomplete.
At a press conference after the awards were handed out, she stressed that "the film is not finished yet" and added that she hopes to add more music from Radiohead guitarist Jonny Greenwood into the finished version.
She said: "We worked with Jonny Greenwood who is an amazing musician. He has done so much beautiful music so we want to explore that a bit more.
"We didn't have that much time. He sent me lots of beautiful music, some of it is very moving. So that is what I want to explore."
"Jonny is genius - he doesn't compose to picture so you have to listen through everything he does. I also worked with Paul Davis and a Swedish music editor that works in documentaries - that whole sound team made the sound edit work in 5 days, rather than the usual 3 weeks. It was crazy."
Phoenix described the brisk pace of production. "She had not yet finished the script, so she would be writing every day - nothing felt fixed. We would try things, and often we would laugh about it if it didn't work.
"Somehow she pulled it together," said Phoenix, who described the set as "alive" and "continuously changing".
Fast shoot
"This was a fast shoot, and a fast production," added Ramsay, who had only two months to get the film into production to fit Phoenix's schedule. "It's about just going for it, and not thinking too much."
The film, which won the best actor prize for star Joaquin Phoenix and shared the best screenplay award with The Killing Of A Sacred Deer, runs to a brisk 85 minutes.
Commenting on the run time, Ramsay said: "Some films deserve to be long, but I didn't want to bore you in Cannes, there is nothing worse than watching a two-and-a-half-hour-long film that with self-indulgent scenes. So, I tried to be economical with it. All my films are around 90 minutes… I like short films."
Ramsay also said that she would love to work on a comic book adaptation one day. "I'd love to do a superhero movie or a comedy, but they don't ask me to do things like that," she said.