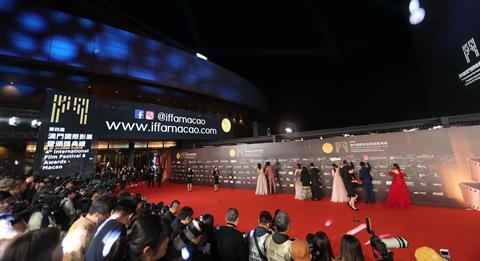 The International Film Festival & Awards Macao (IFFAM) has confirmed that it is moving online for its fifth edition (December 3-8) and announced its full programme, including an international competition for first and second-time filmmakers.
The competition line-up of 11 features including actor Viggo Mortensen's directing debut Falling; Cannes 2020 Label titles Limbo, Spring Blossom and Sweat; Jeonju film festival winner Black Light; and Chinese titles Love Poem, which won the top prize at this year's FIRST International Film Festival, and The Cloud In Her Room, which took the Tiger award at Rotterdam (see full line-up below).
Chinese filmmaker Ning Hao will head the competition jury, which also includes German actress Nina Hoss, Singaporean filmmaker Eric Khoo, Laotian director Mattie Do and Hong Kong International Film Festival Society executive director Albert Lee.
Mortensen, Hoss and Ning Hao will also be the subject of online "In Conversation" events, along with Japan's Hirokazu Kore-eda and South Korean director Hur Jin-ho.
Kore-eda will also be the recipient of IFFAM's 'Spirit of Cinema' award, to be presented at a virtual awards ceremony on December 8.
The festival will also feature a 10 title-strong short film competition, with a jury headed by Chinese producer Fu Jia and also including French producer Mathilde Henrot and Chinese-Canadian filmmaker Johnny Ma.
Special presentations include Chen Weixi's documentary 76 Days, about the fight against Covid in Wuhan, Remi Chaye's animated feature Calamity and Chinese omnibus My People, My Homeland, on which Ning Hao was the general director, among other titles.
Other sections include World Panorama, featuring titles such as Thomas Vinterberg's Another Round and Yujiro Harumoto's A Balance, and genre sidebar Flying Daggers.
"The unprecedented challenges of 2020 may mean that we can't play IFFAM's programme in theatres and we can't welcome any international guests to Macao, but that will not stop us delivering this superb selection of 31 films to audiences in Macao and Hong Kong on our dedicated online platform," said IFFAM artistic director Mike Goodridge.
Access to all films and the IFFAM Project Market (IPM) will be via an online video streaming platform developed by Shift72. Films will be screened on specific days with introductions from directors and will be available for 24-48 hours after rental.
IFFAM 2020 Competition full line-up:
Back To The Wharf, dir: Xiaofeng Li (China)
Black Light, dir: Bae Jongdae (Korea)
The Cloud In Her Room, dir: Xinyuan Zheng Lu (China)
Falling, dir: Viggo Mortensen (US/Canada/Denmark)
Love Poem, dir: Xiaozhen Wang (China)
Servants, dir: Ivan Ostrochovský (Czech Republic)
Shorta, dirs: Frederik Louis Hviid, Anders Ølholm (Denmark)
Spring Blossom, dir: Suzanne Lindon (France)
Sweat, dir: Magnus von Horn (Poland)
Tragic Jungle, dir: Yulene Olaizola (Mexico)
Limbo, dir: Ben Sharrock (UK)