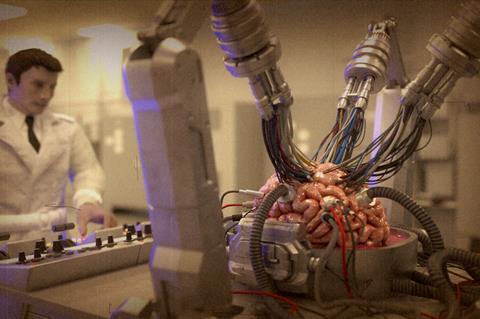 Magnolia Pictures International has reported brisk business on its virtual EFM sales slate with multiple territory sales on Sundance Midnight selection A Glitch In The Matrix, Held, Listen, When I'm Done Dying, and Some Kind Of Heaven.
Rights to A Glitch In The Matrix, Rodney Ascher's (Room 237, The Nightmare) documentary that explores the theory that humans exist within a vast simulation, have gone in Scandinavia, Baltics and Iceland (Nonstop), CIS (Capella Films), and Poland (Ale Kino +).
Magnolia Pictures released the film in the US on February 5. Mongrel handles the Canadian release and Dogwoof distributes in the UK.
2020 Frightfest opening night selection Held, from directors Chris Lofing and Travis Cluff, has sold in German-speaking Europe (Falcom Media), Scandinavia, Baltics and Iceland (Nonstop), South Korea (Movement Pictures), and the Middle East (Falcon).
Offers are in for CIS and India on the thriller written by and starring Jill Awbrey about a married couple who are held captive by an unseen voice in an isolated vacation rental. Bart Johnson also stars.
Magnet will release the film theatrically and on demand on April 9 and Mongrel will follow with its release in Canada.
Nisan Daag's Turkish hip-hop drama When I'm Done Dying about a romance between a Kurdish rapper and an affluent DJ has gone to Mars Production for Turkey and Kino Mediteran for former Yugoslavia. The film earned the best director award at Tallinn Black Nights last year.
Ana Rocha de Sousa's Listen, winner of the Orizzonti Special Jury prize and the Lion of the Future - Luigi De Laurentiis Award for best debut film at 2020 Venice Film Festival, has sold to Waterhole for South Korea, and AMC / Sundance Channel for Poland.
The drama about the travails of an immigrant couple and their deaf daughter in London previously sold to in Canada (Films we Like), Spain (Maximus Entertainment), Italy (Lucky Red), Brazil (Fenix Filmes), Middle East (Gulf) and Mongolia (Mongol Films). Lúcia Moniz, Ruben Garcia, and Maisie Sly star.
Lance Oppenheim's Sundance 2020 selection Some Kind Of Heaven, which Darren Aronofsky produced and looks at life in the largest retirement community in the US, has sold to Dogwoof in the UK, Filmin in Spain, and PPCW in Hong Kong.
As previously announced, Madman acquired the documentary for Australia/New Zealand and Nonstop took rights in Scandinavia, Baltics and Iceland. Magnolia released it in the US in January.