Awards run, early 2018 theatrical release planned.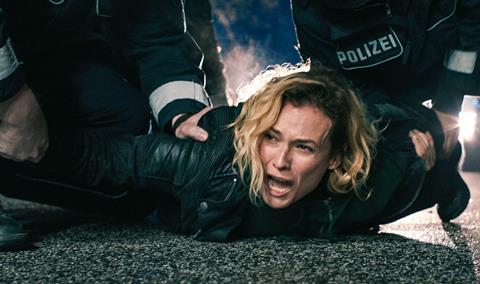 Magnolia Pictures has acquired North American rights to Faith Akin's revenge drama In the Fade starring Cannes best actress winner Diane Kruger.
The film will navigate an awards-qualifying run this autumn ahead of a theatrical release in early 2018.
Kruger plays a German mother seeking revenge for the murder of her family at the hands of Neo-Nazis. Denis Moschitto, Johannes Krisch, Ulrich Tukur, Samia Chancrin, and Numan Acar also star.
"In the Fade is my own reflection of current developments in the world," Akin, who wrote and directed, said. "On different layers it is a very personal film for me. I am honored that Magnolia will bring the movie to American audiences and I am very excited about this." Hark Bohm co-wrote the screenplay.
Nurhan Şekerci-Porst, Akin, and Herman Weigel produced. The film is a Warner Bros Pictures presentation of a Bombero International, Warner Bros Film Productions Germany production, in co-production with Macassar Productions, Pathé, Dorje Film, and Corazón International.
"Diane Kruger's performance in In the Fade is one for the ages," Magnolia president Eamonn Bowles said. "It is a stunning anchor to this incredibly timely and powerful film."
Magnolia co-executive vice-president Dori Begley and Magnolia senior vice-president of acquisitions John Von Thaden negotiated the deal with the film's international sales agent Match Factory and UTA Independent Film Group on behalf of the filmmakers.