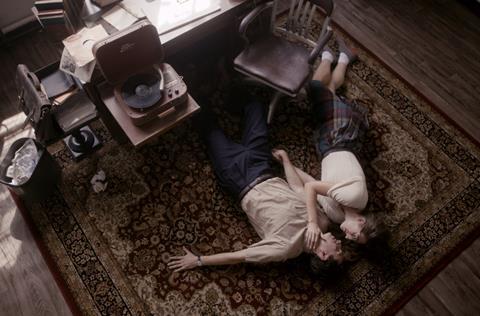 Magnolia Pictures has picked up North American rights from Participant to A Compassionate Spy, Steve James's documentary about the controversial American nuclear physicist Ted Hall who passed secrets to the Soviet Union.
At age 18 Harvard graduate Hall became the youngest recruit to the Manhattan Project in the early 1940s. After the United States detonated its first nuclear bomb he became concerned his country had a potentially catastrophic monopoly on the technology and provided confidential information to the Soviets.
The film is told from the perspective of Joan, Hall's wife of more than 50 years, who protected his secret for decades. The couple raised a family under a cloud of suspicion and endured years of surveillance and intimidation by the FBI. A Compassionate Spy premiered at Venice last year and played at Telluride.
Magnolia will release theatrically later this year and Autlook Filmsales is handling international sales in Berlin. Participant presents the Mitten Media and Kartemquin Films production produced by Mark Mitten, Dave Lindorff, and James. Executive producers include Jeff Skoll, Diane Weyermann, Tim Horsburgh, and Gordon Quinn.
"I am thrilled to work once again with Magnolia," said James, whose credits include Hoop Dreams and Life Itself. "For a long time, they've been one of the classiest distributors of documentaries, and they're the best possible home for A Compassionate Spy."
"Steve James has delivered another emotional, yet clear-eyed, look at a complex subject," said Magnolia Pictures president Eamonn Bowles. "A Compassionate Spy succeeds in telling a larger story in individual human terms."
"Ted Hall's legacy is timely and nuanced, and Steve James' incredible talent makes for a really thrilling telling of a vital story," added Participant CEO David Linde. "A Compassionate Spy is a reminder of how the past is always present and how the spectre of nuclear war lingers in our collective consciousness. Magnolia is a great partner and we are looking forward to working with them again to bring it to audiences."
Magnolia EVP Dori Begley and SVP of acquisitions John Von Thaden brokered the deal with Participant's EVP content strategy & sales Liesl Copland, senior counsel, business & legal affairs Adam Macy, and SVP content strategy & sales Rob Williams, alongside Jason Ishikawa of Cinetic on behalf of the filmmakers.
Participant's upcoming feature releases include BLKNWS (A24), White Bird: A Wonder Story (Lionsgate), Shirley (Netflix) and Out Of My Mind (Disney +). Recent releases include Oscar nominee and Venice Glden Lion winner All The Beauty And The Bloodshed (Neon, HBO Documentary Films), Lowndes County And The Road To Black Power (Greenwich, Peacock); and Descendant (Netflix/Higher Ground).
Magnolia's recent releases include Andrew Bujalski's Tribeca comedy There There; Lee Jung-jae's Cannes espionage action thriller Hunt; and Sierra Pettengill's documentary Riotsville, USA.