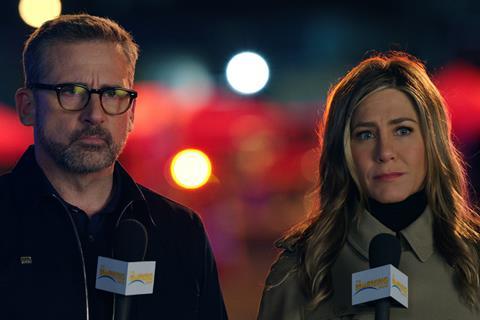 The leading US-based international TV distributors have cancelled the summer's annual LA Screenings showcase out of concern over the spread of coronavirus.
Disney, NBCUniversal, Sony, ViacomCBS and Warner Bros issued a statement on Thursday (12) as other disruptions to the TV industry emerged, including a temporary hiatus to production on Season 2 of Apple TV+'s The Morning Show.

The statement said, "It is out of an abundance of caution, and with the health and well-being of our clients and employees at the forefront, we have collectively decided to not hold L.A. Screenings events this year and will instead explore alternative options in which to showcase our respective upcoming content.

"While we look forward to hosting our clients at this time-honored industry event, in acknowledgement of - and out of respect for - the travel bans, travel restrictions and evolving public health concerns of our global client base, we believe that not having our clients and executives travel into Los Angeles from various locations around the world is the most responsible course of action. Each major U.S. international TV distributor will be individually communicating its alternative screening plans to clients soon."
Following the development on The Morning Show, the high-profile Jennifer Aniston-Reese Witherspoon drama series for Apple TV+, production company Media Res said the move, taken in agreement with Apple, would allow time to "assess the situation and ensure the safety of the incredible people who make this show."
A brief shoot in Prague for upcoming Disney+ streaming series The Falcon And The Winter Soldier was reportedly shut down earlier this week and the production team recalled to the US. The Marvel Studios show starring Anthony Mackie has mostly been shooting in the US state of Georgia. A scout for the show in Puerto Rico led to nothing after the Caribbean island was struck by a wave of earthquakes at the start of the year.
Production in Vancouver, Canada, on the fifth season of network drama Riverdale has been suspended after it was discovered that a member of the show's team had been in contact with someone who tested positive for COVID-19. Production company Warner Bros said the shutdown was due to "an abundance of caution."
Universal Television has paused shoots on its shows Little America (for Apple TV+), Russian Doll (for Netflix) and Rutherford Falls (for Peacock), and production on reality shows Survivor and The Bachelorette have also been affected.
A number of companies have already cancelled the live presentations they had been planning for the so-called 'upfronts' in New York during the second half of May, when new programming is traditionally presented to advertising buyers. Companies including AMC, NBCUniversal, WarnerMedia and ViacomCBS have said they will now make digital-only online presentations to ad buyers.
The US TV industry's awards season has also been hit, with the US Television Academy banning so-called 'For Your Consideration' (or FYC) live screenings and events in the run up to voting for September's Primetime Emmys. FYC events will have to be live-streamed or recorded without audiences, the TV Academy has told networks and studios. If the coronavirus is contained, the TV Academy said in an e-mail, "we will contemplate a truncated FYC event season with an audience."