Fox's sequel adds $2.9m (£1.9m) for $13m (£8.6m) after 11 days in play; Sony's Chappie is the highest new entry with $1.5m (£996,000); Still Alice posts excellent $606,000 (£401,396) debut from 87 sites for Curzon Film World.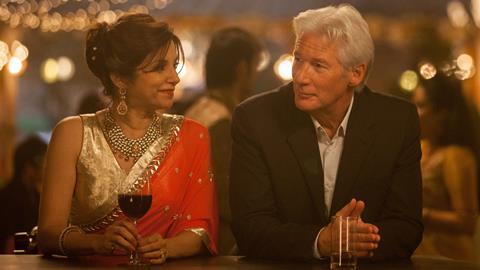 Underwhelming new releases and good weather saw a soft session at the UK box office led by The Second Best Exotic Marigold Hotel.
Fox's sequel recorded a second straight week as the UK's number one with a $2.9m (£1.9m) weekend following a 38% drop, excluding previews. As expected, the film enjoyed a prosperous first midweek session taking almost $4.5m (£3m) on Mon-Thurs, and stands at $13m (£8.6m).
The Second Best Exotic Marigold Hotel is currently tracking ahead of its predecessor which had grossed $10.7m (£7.1m) at the end of its second weekend, albeit from ten days of release compared to the sequel's 11 as a result of previews.
Also for Fox, Kingsman: The Secret Service is now Matthew Vaughn's best-ever UK performer after a $678,000 (£448,333) weekend saw it to $23.1m (£15.3m), ahead of the $22.7m (£15m) tallies of Stardust and X-Men: First Class.
Unfinished Business matched its soft domestic bow with a weak $593,000 (£392,277) UK debut from its 408 sites, less than half of the $1.7m (£1.1m) opening of previous Vince Vaughn-Ken Scott collaboration, Delivery Man.
Selma and Birdman stand at $4.5m (£2.9m) and $8.8m (£5.8m), respectively.
WARNER BROS
With a respectable 32% drop in its second weekend, Focus climbed up to second at the UK box office with $2m (£1.3m).
Warner Bros' con artist drama is now up to $6.4m (£4.25m) and is co-directors Glenn Ficarra and John Requa's best-ever UK performer, surpassing the $5.1m (£3.4m) result of Crazy, Stupid, Love.
Also for Warner Bros, American Sniper and Jupiter Ascending have amassed $20.5m (£13.6m) and $6.6m (£4.4m), respectively.
UNIVERSAL
It may have dropped a further place to third but Fifty Shades of Grey still whipped all newcomers with a $1.6m (£1.06m) fourth weekend.
Universal's raunchy adaptation has now grossed $49.4m (£32.7m), making it the eighth biggest Universal release of all time behind Bridget Jones: The Edge of Reason's $54.5m (£36.03m).
Also for Universal, The Theory of Everything finally fell out of the top ten after nine consecutive weeks with a $254,000 (£168,000) tenth weekend for a superb running tally of $31.7m (£20.99m), while The Boy Next Door struggled in its second weekend with a 59% drop on its way to $251,000 (£166,000) for $1.2m (£817,000).
Kill the Messenger posted a $86,000 (£57,000) debut at a soft $756 (£500) site average.
SONY
Chappie was the week's highest new entry in fourth with an uninspiring $1.5m (£996,000) bow from its 460 sites.
Sony's sci-fi recorded the lowest opening for director Neill Blomkamp, under half of that of both District 9 ($3.5m/£2.3m from 447) and Elysium ($4.7m/£3.1m from 463, including $1.47m/£974,038 in previews). Both of those films capped around $13.6m (£9m) in the UK, a tally that looks a tough ask for Chappie.
Also for Sony, The Wedding Ringer stands at $3.3m (£2.2m) following a $214,000 (£142,000) third weekend.
DISNEY
Falling a slim 33% in its sixth weekend, Disney's Big Hero 6 flew to a further $1.2m (£814,000) for $28.1m (£18.62m) to date. It will hit £20m in the coming weeks, but is likely to fall short of Wreck-It Ralph's $35.8m (£23.7m) UK result.
STUDIOCANAL
Now in its fifth week of release, StudioCanal's Shaun the Sheep Movie added $916,000 (£606,231) for a decent $18.7m (£12.4m) to date, even if it is now unlikely to crack £15m.
Also for StudioCanal, Paddington is still attracting audiences in its 15th week of release and took $231,000 (£152,891) for $56.3m (£37.24m), while Catch Me Daddy could only manage an $8,400 (£5,580) second weekend for $103,000 (£68,414).
CURZON FILM WORLD / ARTIFICIAL EYE
One of the performances of the weekend came from Curzon Film World's Still Alice with an excellent $606,000 (£401,396) from its 87 sites, including just under $30,000 (£20,000) in previews.
That's ahead of Boyhood's $503,000 (£332,834) debut from 89 sites and also compares favourably to Whiplash, which drummed up $866,000 (£573,546) on its opening but from a much wider release at 249.
For Artificial Eye, The Duke of Burgundy has grossed $183,000 (£120,870) after three weeks in play.
ICON FILM DISTRIBUTION
Well-received horror It Follows posted a $344,000 (£227,492) second weekend through Icon Film Distribution and has now journeyed to $1.2m (£816,670).
PARAMOUNT
Now in its third week, Paramount's time travel thriller Project Almanac won't be around for much longer as it added just $51,000 (£33,800) for $1.9m (£1.2m) to date.
METRODOME
Edinburgh 2014 opener Hyena recorded a $30,000 (£19,564) bow, including previews, from its 17 sites through Metrodome.
Also for Metrodome, Cannes Un Certain Regard 2014 winner White God has grossed $54,000 (£35,928) after two weeks in play.
DOGWOOF
Released in three sites through Dogwoof, Dreamcatcher grossed a strong $5,600 (£3,710) on its UK debut.
EUREKA ENTERTAINMENT
Alain Resnais' final feature film Life of Riley recorded a UK opening of $3,400 (£2,281) from its one-site release through Eureka Entertainment.
SODA PICTURES
Sundance 2014 winner Difret posted a UK bow of $3,300 (£2,207) from its eight sites through Soda Pictures.
UPCOMING RELEASES
This week sees a saturation release for Warner Bros' Run All Night, while Koch Media's X+Y, eOne's Suite Francaise and Filmhouse's My Name is Salt all receive wide releases.
StudioCanal/ICO's re-release of Far from the Madding Crowd is among the films receiving a limited release.