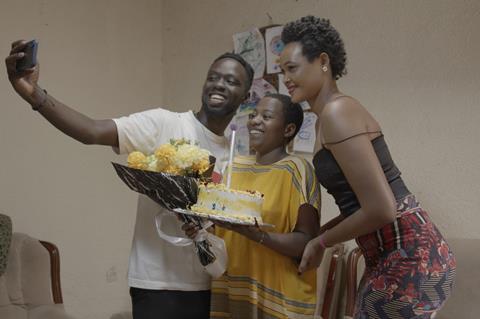 The Atlas Workshops, the project incubator and industry platform of the Marrakech International Film Festival, has unveiled the line-up for its fourth edition, which will unfold online from November 22 to 25.
The industry meeting, which last took place as a physical event in 2019, has been moved online for a second year following the cancellation of its parent festival due to ongoing efforts to keep cases of Covid-19 under control in its home territory of Morocco.
Scroll down for the full list of projects
This year's edition will showcase 15 projects in development and nine films in production or post-production by Arab and African filmmakers, selected from 250 submissions. As in its previous three editions, Netflix and the Moroccan Cinema Centre are on board as partners.
Projects in development include Moroccan filmmaker Laïla Marrakchi's La Más Dulce about four Moroccan women working as strawberry pickers in Spain who decide to speak out about their deplorable working and living conditions.
It will be Marrakchi's third film after Cannes Un Certain Regard selection Marock and Rock The Casbah, which world premiered at Toronto in 2013. It marks her return to the feature format after eight years working as a director on series like Marseille, The Bureau and The Eddy.
Lesotho director Lemohang Jeremiah Mosese, who enjoyed a high-profile festival run across 2020 with This Is Not a Burial, It's A Resurrection, will present his new feature project, The Chattering Of Teeth.
Set again the backdrop of Lesotho in 1852, it follows a father and son who take refuge in a fortress city on the top of a mountain, inhabited by a population of outcasts trying to rebuild their lives but still haunted by their experiences of warfare and siege.
Other projects in development comprise The Last Days Of R.M. by Algerian filmmaker Amin Sidi-Boumédiène, whose debut feature Abou Leila world premiered in Cannes Critics' Week in 2019.
It revolves around an Algerian writer who goes into self-exile in Paris after he receives death threats back home in Algeria at the height of the country's civil war in the 1990s. Separated from his wife and son, he sinks into a state of near madness in which he is visited by characters from his novels.
Other confirmed directors in the selection include Mauritanian-Senegalese writer, director, producer Rama Thiaw with feature documentary The Vanishing, retracing her mother's stormy life marked by colonialism, racism and misogyny in African and Europe. Thiaw's second feature documentary The Revolution Won't Be Televised won the Fipresci prize in Berlin in 2016.
Nigeria's Newton Aduaka, who is best known internationally for his 2007 award-winning child soldier drama Ezra, participates with Oil On Water. It is an adaptation of compatriot writer Helon Habila's 2010 eponymous novel exploring recent Nigerian history through the prism of two foreign correspondents attempting to find the kidnapped wife of a European oil executive.
First-time works comprise mother-and-son drama Breakfast, Lunch And Dinner, by Egypt's Mohamed Samir, who is best known internationally as the producer of Mohamed Khan's Factory Girl; Tunisian director Charlie Kouka's Joan of Arc-inspired debut feature Leïla's Trial, revolving around the trial of a religious teenage girl on terror offences; Moroccan filmmaker Youssef Michraf's coming of age tale Sweet Disposition about a boy who is ashamed of his father; Tunisian lost generation road movie Tunis-Djerba by Amel Guellaty and female emancipation tale Nonna by South African director Tebogo Malebogo.
British-Nigerian writer and director Akinola Davies Jr, who was a Screen UK and Ireland Star of Tomorrow in 2020, also participates with his debut feature The Last Post Office In Lagos, about a young girl with writing ambitions who falls in with a street gang after she gets lost in the Nigerian capital, which is a guest project.
Projects in post-production include Rwandan director Mutiganda wa Nkunda's second feature Phiona, A Girl From Madrid, exploring Rwandan attitudes towards girls who fall pregnant out of wedlock through the tale of a girl who returns home after a long absence and a stay in a metaphorical city called Madrid.
Nkunda's debut feature Nameless, about a young couple trying to make ends meet in Kigali, recently won best screenplay at the 2021 edition of Fespaco. French-Tunisian producer Nadim Cheikhrouha, whose previous credits include The Man Who Sold His Skin, lead produces under the banner of his Paris-based Tanit Films.
Further African projects in the post-production line-up include Senegalese director Pape Bouname Lopy's debut feature Le Mouton De Sada about a man facing a dilemma when his son runs away with his beloved sacrificial sheep.
The section also includes Palestinian director Firas Khoury's debut feature Alam, about a Palestinian teenager growing up as a citizen of Israel; Moroccan-Tunisian co-production Backstage by Atef Ben Mahmoud and Khalil Benkirane about a Tunisian dance troupe who get lost in an Atlas region, and Moroccan documentarian Asmae El Moundir's The Mother Of All Lies, digging into the secrets of her Casablanca family.
The post-production line-up also features a number of strong female stories including Egyptian director Dina El Zeheiny's coming of age tale Land Of Women, about a group of disenfranchised Coptic girls in southern Egypt who form an all-female street theatre troupe; Moroccan filmmaker Yasmine Benkiran's Thelma & Louise-style road movie Queens, and Tunisian-French director Erige Sehiri's rural youth culture tale Under The Fig Trees.
The selection also includes a special focus on Morocco feature projects by more established filmmakers. They include veteran filmmaker Hakim Belabbes's semi-autobiographical about a man looking back at his lifelong love affair with cinema.
The 24 projects will benefit from tailor-made advice from 15 consultants, specialised in screenwriting, production, distribution, editing and music. The projects will then be presented in a virtual showcase attended by some 350 international cinema professionals.
This year's edition will also feature a series of online talks including a conversation with Moroccan director Nabil Ayouch, whose latest film Casablanca Beats is Morocco's 2022 Oscar submission, and a talk with Tunisian-Egyptian actress Hend Sabry about her experiences working with Netflix on a new original series.
The 2021 selection of the Altlas Workshops:
Feature projects in development
Breakfast, Lunch And Dinner (Egy-Fr)
Dir. Mohamed Samir
Prod. Marwa Abdalla, Mohamed Samir, DayDream Art Production (Egy)
La Mas Dulce (Mor)
Dir. Laïla Marrakchi
Prod. Marrakchi, Cinestésia (Mor)
Leïla's Trial (Tun, Fr)
Dir. Charlie Kouka
Prod. Caroline Nataf, Unité (Fr)
Nonna (S. Afr)
Dir. Tebogo Malebogo
Prod. Petrus van Staden, Vanishing Elephant (S Afr)
Oil And Water (Nig, Can)
Dir. Newton Aduaka
Prod. Éric Idriss-Kanago, Daniela Mujica, Yzanakio (Can)
Sweet Disposition (Mor-Fr)
Dir. Youssef Michraf
Prod. Jean-Christophe Reymond, Kazak Productions (Fr)
The Chattering Of Teeth (Lesotho, S Afr)
Dir. Lemohang Jeremiah Mosese
Prod. Cait Pansegrouw, Elias Ribeiro,Urucu (S Afr)
The Last Days Of R.M. (Alg)
Dir. Amin Sidi-Boumédiène
Prod. Louise Bellicaud, Claire Charles-Gervais, Vivo Films (Fr)
The Vanishing (Sen)
Dir. Rama Thiaw
Prod. Rama Thiaw, Yanis Gaye, Boul Fallé Images (Sen)
The Pigs Of Cairo (Egy, Fr)
Dir. Rani Massalha
Prod. Marie Legrand, Les Films du Tambour (Fr)
Tunis-Djerba (Tun, Fr, Qat)
Dir. Amel Guellaty
Prod. Asmae Chiboub, Atlas Vision (Tun)
Features in production or post-production
Alam (Pal, Fr, Tun, Qat)
Dir. Firas Khoury
Prod. Marie Pierre Macia, Claire Gadéa, MPM Film (Fr)
Backstage (Tun/Mor)
Dir. Afef Ben Mahmoud, Khalil Benkirane
Prod. Khalil Benkirane, Lycia Productions (Mor)
Land Of Women (Egy, Fr, Den, Qat)
Dir. Nada Riyadh, Ayman El Amir
Prod. Ayman El Ami, Felucca Films (Egy)
Le Mouton De Sada (Sen)
Dir. Pape Bouname Lopy
Prod. Khadey Zidna Mahfou, Groupe Lydel Com (Sen)
Phiona, A Girl From Madrid (Rwanda, Fr)
Dir. Mutiganda wa Nkunda
Prod. Nadim Cheikhrouha, Tanit Films (Fra)
Queens (Morocco)
Dir. Yasmine Benkirane
Prod. Amélie Jacquis, Jean des Forêts, Petit Film (Fr)
The Mother Of All Lies (Morocco) documentary
Dir. Asmae El Moudir
Prod. Asmae El Moundir, Insight Films (Mor)
Under The Fig Trees (Tun, Fr)
Dir. Erige Sehiri
Prod. Erige Sehiri, Henia Production (Tun)
Regards Sur L'Atlas (Moroccan projects and films)
Moroccan features In development
L'Histoire De M (Mor, Fr, US)
Dir. Hakim Belabbes
Prod. Hakim Belabbes, HAK Films (Mor)
The Blue Lake (Mor)
Dir. Daoud Aoulad-Syad
Prod. Daoud Aoulad-Syad, Les films du Sud (Mor)
Road To Limbo (Mor)
Dir. Ayoub Lahnoud
Prod. Fatima Boubakdy, Seven Shots (Mor)
Those Going To Paradise (Mor)
Dir. Nabil Merrouch
Prod. Rim Mejdi, Tifawfilms (Mor)
In post-production
Distances
Dir. Reda Henkam
Prod. Hicham Falah, Cinema Salama (Mor)