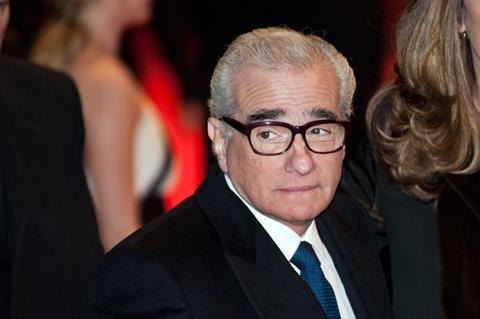 Martin Scorsese discussed his new film The Irishman and how the streaming giants have disrupted the industry at a Marrakech Film Festival In Conversation event over the weekend.
The Irishman is being financed by Netflix and will be on the platform shortly after a brief cinematic debut.
Scorsese said Netflix was the only company willing to finance the film starring Robert De Niro, Al Pacino and Harvey Keitel, and so he has to embrace the change.
"Here you have people taking risks on a picture I just made and it's a risky film and an interesting experience," he said of Netflix. "I think it's a risk and no one wanted to do it for five or six years. And of course we're all getting older."
Scorsese also said Netflix head Ted Sarandos walked the director through the group's home page and the tile system that pushes films to audiences based on what they have watched.
The Irishman is based on Charlie Brandt's book I Heard You Paint Houses: Frank "The Irishman" Sheeran & Closing the Case on Jim Hoffa.
He described the film as being "About two brothers, they have to trust each other and there is a betrayal," adding that he's been making the same film for 45 years.
The director also said the age of his stars meant that he allowed the actors limited scope for improvising scenes. "The Irishman has some improvisation in it, but it is very structured. I tried free improvisation on a film once and it was a disaster. But as we are getting older, we have to place our energy when we have it. We are in our 70s and it's hard to say 'lets' all work an extra two hours a day and we'll get it', so we had to get the actors in their rhythm."
Industry worries
Scorsese said that despite his positive experience with Netflix, he's worried about the state of distribution today. "Everyone can make films today, but no one can see them," he lamented.
"The cinema of the past 100 years has gone and the presentation of it has changed," he added. "I have no idea of how the future will look in terms of presentation of visual storytelling as we have no idea what the developments will be."
"George Lucas said five years ago that for the next decade we shall be in a dark ages, where we will not know what platforms will exist in the future and how we will migrate to them."
This leads Scorsese, one of the leading voices and backers of film preservation to wonder what will happen to film in the future. "After a century of cinema the only thing we know that preserves film is nitrate. With all this stuff we are doing now, who knows it can fade away tomorrow."
Scorsese had long been adamant he would only make a film on celluloid until he made Hugo on digital in 3D and then committed himself to the format with The Wolf of Wall Street in 2012.
Scorsese said that the change we are seeing at the moment with the digital world is akin "to a second industrial revolution and a lot of negative stuff came out of the first, we have to find a way."
He concedes that change is not a bad thing. "When nitrate film switched to acetate in the 1950s, I didn't notice the change in quality on the film. And can the young generation tell the difference between 35mm and DCP, probably not. Is that a bad thing? I'm not sure that is bad."
Scorsese was speaking to a packed audience in Marrakech that included Julian Schnabel, Guillermo del Toro and Toronto head Cameron Bailey. The festival runs from November 30 to December 8.