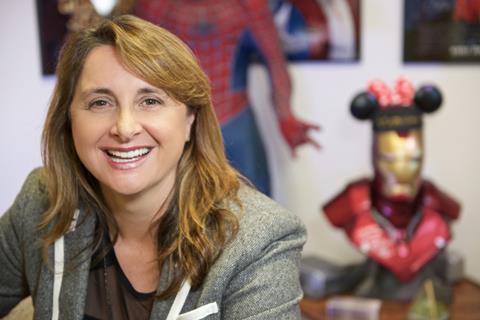 The 2021 Annecy Festival's Women In Animation World Summit began on Monday (June 14) with a fireside chat with Marvel Studios' executive vice president of production Victoria Alonso.
Appearing via video link to introduce Marvel's first foray into animation, Disney+ series What If…?, Alonso also used her time in conversation with Women In Animation secretary Julie Crommett to speak about the power of diversity in front of and behind the camera.
Buenos Aires-born Alonso, who began working in visual effects for Digital Domain among others, joined Marvel Studios 15 years ago and is executive producer on the Disney-owned company's feature films and streaming content. Her remit now includes the company's expansion into animation, with What If…? the first of many for the Marvel Cinematic Universe.
"Often we have been accused that our movies are photorealistic animation because a lot of our characters, a lot of our environments, a lot of what's happening in our final battles are full-on digital, so we're not strangers to animation proper," said Alonso.
As with visual effects, Marvel plans to work with animation companies around the globe. "I truly believe that part of having a more cohesive storytelling voice is when you gather people from all over the world and animation gives you that," she said. "We've been doing it with visual effects forever, but this is a chance to work with different people in different places."
On the topic of representation and inclusion, in front and behind the camera, Alonso stated that both had long been part of the company's philosophy. "Inclusion, diversity and gender parity all go hand-in-hand with showing the world as is," she said. "There are about 6,000 characters in the Marvel library we have access to, so if this goes right, we will be telling these stories for generations to come.
"The only reason [Marvel] has this level of success, consistently, is because our audience is global, and you can't have a global audience and not somehow start to represent it," Alonso continued. "So, for us, it was important that we have that. For the longest time we were told a woman-led film will never open. They told us that Black Panther was never going open, that nobody wanted a completely black cast – and that made $1.3bn.
"You can look at it from the social point of view, the cultural point of view, but this is a business. From the fiscal point of view, you are leaving money at the table by not representing – 51% of our audience is female, 28% of our audience is Hispanic. If we don't represent the people that watch what we make, eventually they'll go elsewhere because somebody else will figure it out, 'There's money to be made there.'"
Growing up, Alonso said her exposure to the power of diversity came from the United Colours of Benetton advertising campaigns in the 1990s, which featured people from all over the world, and she has been a champion for underrepresented voices throughout her career even when it was "uncomfortable to do so".
"When I walk into a room, I do a head count of how many women are in the room. And if there are only three women in the room and 17 men, I usually make this comment: 'There's a lot of men here today,'" she revealed. "It is calling out what it is."
By the same token, Alonso doesn't want to walk into a roomful of women either. "I believe the balance is good – the male, the female, and the other," she noted. "All of that is good for us."