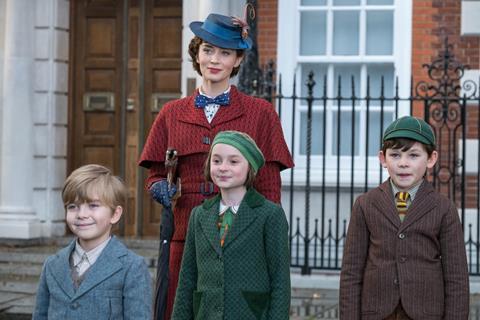 Disney's musical fantasy sequel Mary Poppins Returns got underway in the UK this weekend with an impressive £8.2m three-day opening from December 21-23.

The film was released into a massive 740 cinemas – that's the widest ever release for a film in the UK. Its £8.2m opening is an average of £11,081 per location.
The sequal to the much-loved original, which stars Emily Blunt alongside Lin-Manuel Miranda, Ben Whishaw and Emily Mortimer,is set two decades later and sees the magical nanny return to the Banks family after they are beset by tragedy.
In terms of UK openings in 2018, Mary Poppins slots comfortably into the top 10: Avengers: Infinity War (also Disney) sits top with a £23.1m three-day start; Fantastic Beasts: The Crimes Of Grindelwald (Warner Bros) posted £12.3m; Jurassic World: Fallen Kingdom (Universal) took £10.6m; Black Panther (Disney) took £10.5m; Mamma Mia! Here We Go Again (Universal) opened with £9.7m, while Incredibles 2 (Disney) posted £9.5m.
Three films opened below Mary Poppins and made it into the top 10 overall highest-grossing releases of the year: Peter Rabbit (Sony) with £7.2m; Deadpool 2 (Fox) with £7.7m; Bohemian Rhapsody (20th Century Fox) with £6.4m.
Those numbers make good reading for Disney, with family films tending to post strong week-on-week holds this year. Incredibles 2 and Peter Rabbit both built on those decent starts to become the third and seventh highest-grossing releases of the year (£56.1m and £40.9m respectively), for example.
Musicals have also fared particularly well in 2018. The Greatest Showman opened significantly less than Poppins with £2.6m, but built to become the eighth highest-grossing film of the year with £39.6m.
Mary Poppins dominated 45% of takings over its opening Friday to Sunday, with grosses growing day-on-day moving into the UK bank holidays of Dec 25 (when most cinemas are closed) and Dec 26. The family title is likely to build consistently over the coming festive days - it looks set to comfortably be the biggest holiday release of the year.
The film will have further competition from Transformers spin-off Bumblebee (Paramount) and comedy Holmes And Watson (Sony) from Dec 26.