EXCLUSIVE: German indie powerhouse signs slew of deals.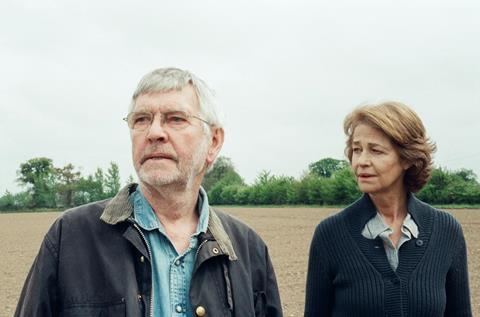 German sales outfit The Match Factory will be at the Berlinale with a typically strong line-up, which has already piqued plenty of buyer interest.
Four of the company's titles compete for the Golden Bear, two will premiere in Panorama and one in Forum.

45 Years, the Golden Bear contender starring Charlotte Rampling and Tom Courtenay by Weekend director Andrew Haigh has recently sold to Benelux (ABC Cinemien), Switzerland (Filmcoopi), Australia/ New Zealand (Madman) and Germany (PIFFL Medien).
The Match Factory previously secured a deal for the UK (Artificial Eye).
Competition title As We Were Dreaming, which continues The Match Factory's relationship with director Andreas Dresen and producer Peter Rommel, has been sold to France (Sophie Dulac), Switzerland (Filmcoopi), Greece (Ama Films) and ex-Yugoslavia (MCF Megacom).
Pandora Film Verleih will release the drama in Germany after its Berlinale premiere.
Meanwhile, Laura Bispuri' s debut film Sworn Virgin, also in competition, is the story of an Albanian woman who sacrificed her femininity for her freedom and years later must renounce her honour to become a woman again.
Alba Rohrwacher stars alongside Lars Eidinger. James Velaise of Pretty Pictures is executive producer and will release in France while Ama pre-bought the film for Greece and Istituto Luce will release in Italy.
Sebastian Schipper's Victoria, shot in one take and about a night out in Berlin which turns into a bank robbery, will be released in Germany by Senator.
Also on The Match Factory's slate are Panorama Special title Petting Zoo, about love, sex and teen pregnancy in San Antonio, Texas. The film, directed by Micah Magee, is also produced by The Match Factory in co-production with Athina Rachel Tsangari.
Another of the German sales outfit's Panorama Special titles is Anna Muylaert's The Second Mother, which won saw actors Regina Casé and Camila Márdila pick up the World Cinema Dramatic Special Jury Award for Acting at the Sundance Film Festival and has been sold to Memento in France.
Sonja Heiss´s second feature, Hedi Schneider Is Stuck, will get its premiere in Forum and will be released by Pandora Film Verleih in Germany.
The company's market premieres include Gustavo Taretto´s second film Sunstrokes, already sold to France (Jour2Fête), Brazil (Imovision), Switzerland (Trigon-Film) and Greece (Feelgood Entertainment); Italian director Daniele Cipri's Money Buddies; and Yona, by Israeli filmmaker Nir Bergman.